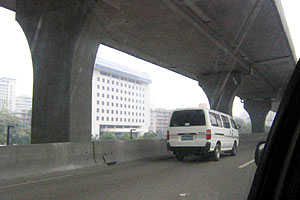 In a taxi on the 2nd tier of a 3 tier carriage way which is very common in Guang Zhou.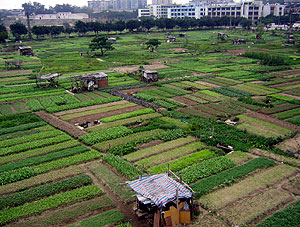 This farming area is just beside the Train Station and Bus Station. How wierd… after moving around in Guang Zhou, i notice they don't really have any form of land zoning. Commercial buildings, Industrial and Residential areas are all mixed in this densely occupied city.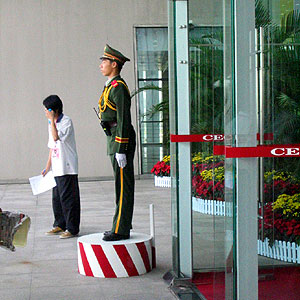 The guards who guarded the Exhibition Halls are pretty disciplined. These are no ordinary guards, they are known as the "Chinese Workers' and Peasants' Red Army".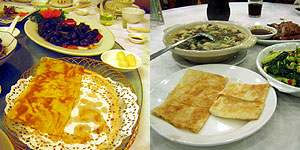 Weirdly enough in Kai Ping, the FOC dessert dish is Honey Prata. I'm serious not joking, the pic on the left was in a high class restaurant while the one on the right is in a normal restaurant. I have to say the Honey Prata they made was really good, thin and crispy.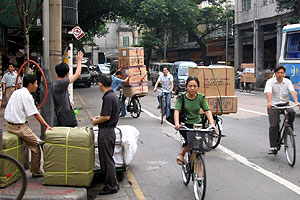 Guang Zhou does not have as much bicycles as I've seen in the early 90s when I visited Beijing and Shanghai, but using bicycles to deliver goods are still common sights in commercial Guang Zhou. Some of them stack up so high, while others go against traffic, its all good, no one complains… it's a way of life.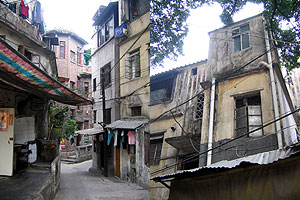 Many streets in Guang Zhou do still have the look of the olden days which was actually not too long ago. As the Ching Dynasty fell in 1911 the country went on a whole different tangent and the juxtaposition of old and new is such an understatement as compared to the colonial building and skyscrapers of Singapore.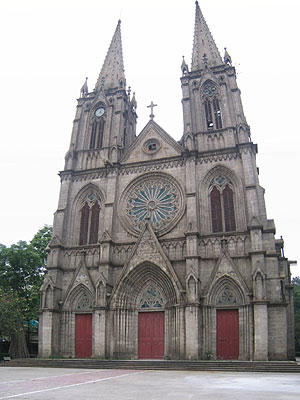 While walking along the streets, I happen to come across to what I know is the only church building in Guang Zhou.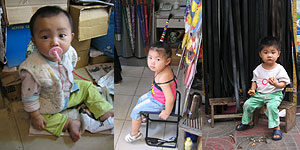 If you look closely, kids in Guang Zhou are pretty cool. Many kids I spotted are in shops where their parents are. The boy on the left is playing with styrofoam for packing ceramic products, the girl in the centre is in a gifts wholesale market and the boy on the right is eating cookies we gave him while he seems to be tending a runned down belt shop.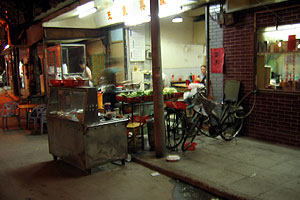 We saw many street side hawkers selling food and in the last couple of nights in Guang Zhou I was determined to find some cool joint in this city.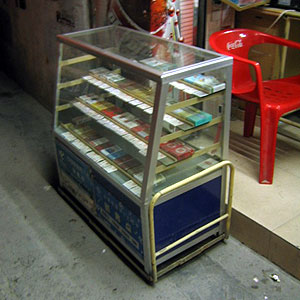 Cool cigarettes display.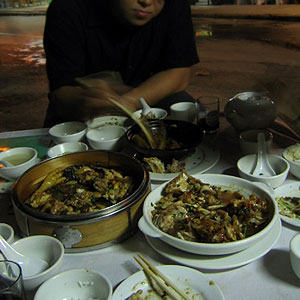 Had dinner in a restaurant with somewhat alfresco outdoor seating. Occasionally the waitress will come out on the street to throw water onto the street to minimize the dust being kicked up from passing vehicles.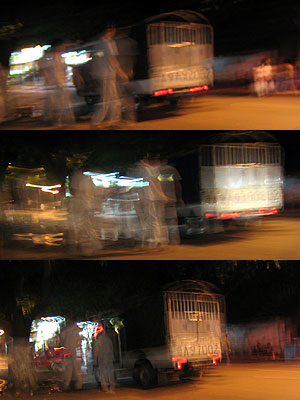 Another night, we went to a place we knew was selling barbecued oysters. We sat down after being harassed by different groups of hawkers trying to make us sit on their tables, so that they would get our order. We walked towards the makeshift barbecue pits opposite the small street and made our selection. We ordered 20 oysters, 20 sticks of satay, 2 squids and the barbecue pit disappeared. The health inspectors arrived, the hawkers scrambled, we stepped back and watched the show. The uncooked food was thrown into the nearby bins, some chairs were confiscated, one inspector even pushed down a bicycle and jumped repeatedly on it trying to somewhat break it. The unlucky owner then told the inspector he was not involved. The inspectors looked fierce, they look pissed and the hawkers look sad.
That was quite an experience.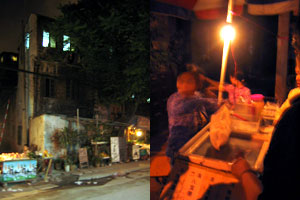 We walked to another area, determined to eat oysters Guang Zhou street style. But first we had to visit the lady whom we bought herbal jelly (Gui Ling Gao) repeatedly for several night.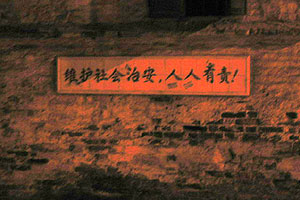 On the walls of the narrow streets and back lanes still stood those social statements that dotted all over China. This one in particular is saying "Security is everyones' responsibility".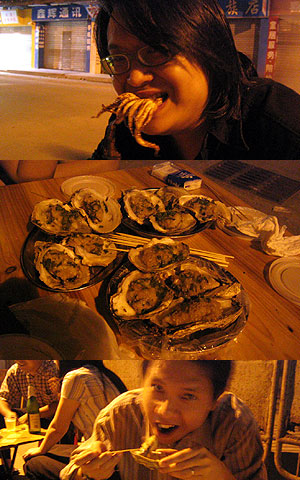 Finally, oysters, squids and satay.
The whole 2 weeks in Guang Zhou and several small towns were really quite an experience for me. This trip sparked interest to me on the Chinese Revolution, Chairman Mao, Deng Xiao Ping, the Nationalist, the Communist, the Cultural Revolution, the future of China and the many visits I will be making to this land in the future.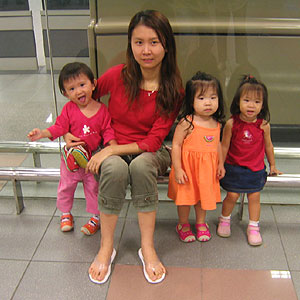 Its great to be back home. The three girls and my sis lined up for a picture. From left Chloe, my Sis Carissa and my Clié.
I purposely left out blogging about my work there, so i won't bore some and my blog will still remain uninteresting to my competitors.