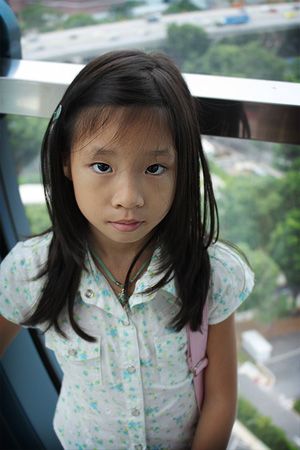 Its the start of my 1 week break from office life. I don't remember a time where i really took time off between jobs. I remembered when i was in Uni, during the school holidays i would come back to Singapore and work. Then after Uni, i started work, we had a kid, i started working harder, we had another kid, i started working even harder.
Now its the June holidays, so its time to really spend time with my kids.
Monday Singapore Flyer, Tuesday Swimming, Wednesday Science Centre, Thursday Ice Skating, Friday Movie. woot!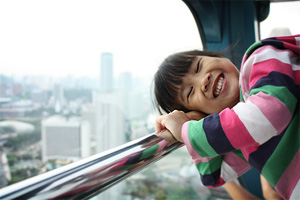 Mommy was on leave on monday as well, hence we headed to Vivo first on the morning. Mommy got both girls 3 dresses each from Gap and they are really nice. Clié even got a nice pair of shoes with strings that tie up all the way to the calf. Very nice.
After a quick lunch, we headed to the Singapore Flyer. As we already had the family member thing when we first went last year, there was no need for us to queue or wait, we just walked in like we owned the place. lol…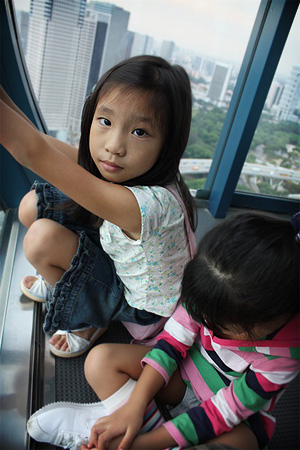 The girls behaved themselves and looked out with interest. They were moving around the whole capsule, looking around and posing when i asked them to smile for the camera.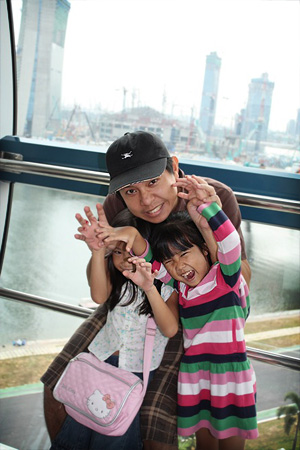 I simply love my girls and i know they know that.
We then headed to Marina for the rest of the afternoon. The kids had so much fun that Clié fell asleep while we were having a short break at a fast food outlet. It was quite a nice day and this is only day 1.