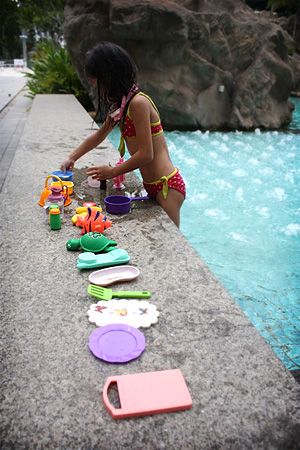 When ever we go swimming, the kids will bring along their cooking toys. They will pick those that can contain water and they will have a good time cooking by the side of the pool.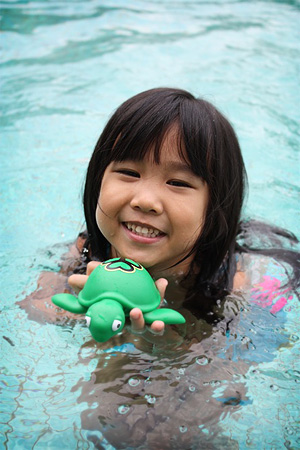 Cleo loves the cool water, while Clié prefers warm water. This is something that is very different between both of them, which also means showering both of them means one after another. You can imagine its not easy to get both of them to agree on the water temperature.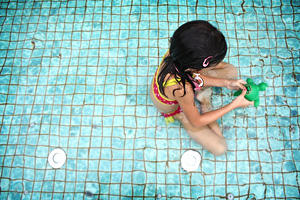 Clié can be super energetic at times and super emo at times too. As there was nobody at the pool so early in the morning, her mood was more emo than energetic. I got into the water after taking all the photos and we had a good time playing.
I was the captain of a ship and they could climb aboard and go to anywhere in the world they wanted. We went to Hong Kong and America.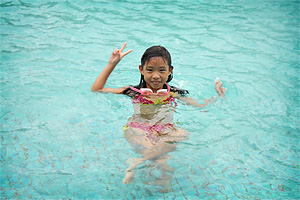 I really want the kids to learn how to swim, its like a life skill, everyone should learn how to swim. Maybe this year end school holidays i'll get them to stay at my parents place which is near the pool to learn how to swim there.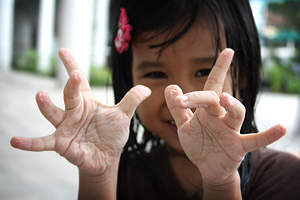 We spent a good 1hr+ in the pool and you can see from Cleo's pruned hands, she really enjoy being in the water.
it was lunch, then off to my parents house. They kids then stayed there to play with their cousins and i took off to spend some quality me time with cutting my OMG hair and spending time on my MacBook Air at City Hall Starbucks with [email protected] till 10pm. woot!