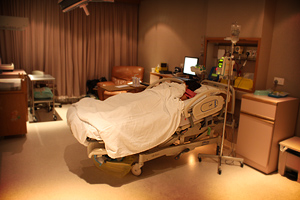 We were having dinner and Pearl thinks her water bag ruptured slightly, we stopped what we were doing and brought our kids home. Showered, changed, we decided to rest at home to monitor Pearl a bit more as water was suppose to be gushing, but it was not as dramatic as we thought. Clié and Cleo was induced, so it was still quite a new experience for Pearl.
We were quite sure it was time, so off to the hospital we go. The nurses checked Pearl's situation and it was confirmed she was in labour.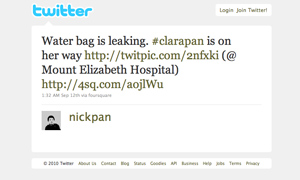 I made an announcement online with my mobile and realised that I've actually use several online services all below 140 characters. So the announcement contained the #ClaraPan hastag,  a picture which i uploaded to Twitpic, a Foursquare Check-in into the hospital which was automatically pushed to my Twitter and it also automatically pushed to my Facebook wall + the tweet is also displayed on my Blog's sidebar. What a time we live in.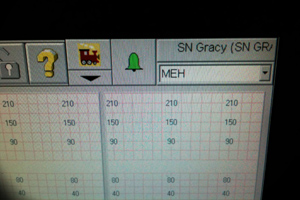 All the cables were hooked up and the baby's heartbeat could be heard thru the speakers. It sounded very much like a choo choo train as depicted by the animated choo choo train icon. Very kid-dish-ly cute.
Alot of people have asked me to update them when the baby was coming, so what better way to announce it thru twitter from 12:30am onwards on an early sunday morning of a long weekend.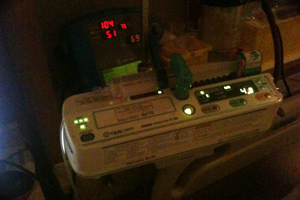 The epidural machine always looked fierce.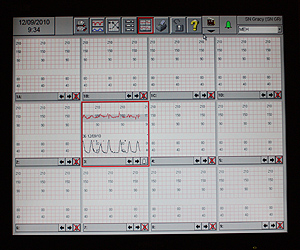 There was another lady who gave birth at about 1:30am or so, but after that the whole Delivery Ward was left to Pearl. The night was quite uneventful, Pearl waited and slept a bit. I sat on the retro brown reclining sofa chair at the side and slept too. I can only imagine the number of fathers who must have sat on the same chair eagerly waiting for the arrival of their little bundle of joy.
For Clié, Pearl admitted in the morning and delivered her in the evening. For Cleo, Pearl admitted in the morning and delivered her in the afternoon. For Clara, Pearl had to go in at midnight and delivered her in the morning.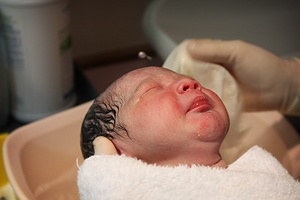 After a tiring wait overnight, our gyne Dr Yeoh said Pearl was ready to push as she was fully dilated. I think she just gave 4 real good push and Clara was out. The nurses cleaned her up and baby looked perfect.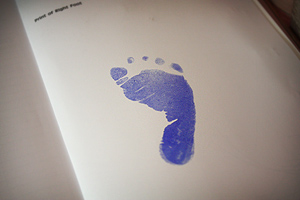 A footprint was also taken.
Pearl lost quite a lot of blood, hence Dr Yeoh had to attend to her for quite a while more. I don't want to go into details, but I'm glad everything turned out well. Its amazing that our doctor knew exactly what to do, who to call, what medication to give, etc. Its definitely  not easy being a doctor at all, they can't Google on the spot.
I would like to sincerely thank everyone who have prayed for Pearl. She is fine now. Thank God!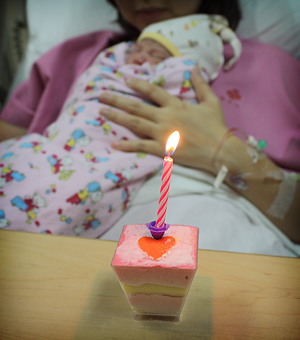 In the evening, we celebrated Clara's birthday with a simple cake. It was after all the day she was born.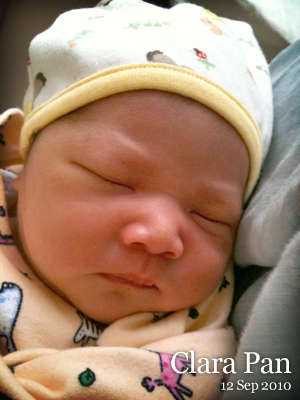 The next day, after dropping Clié off at school, I headed back to the hospital. Mommy was fine, baby was fine, everything was nice and peaceful.
While the nurses were attending to Pearl, I had a good long period of one on one time with Clara.
I looked at her, hummed to her, talked to her as if she could understand me while she was sleeping.
Thank you for coming into our lives Clara.