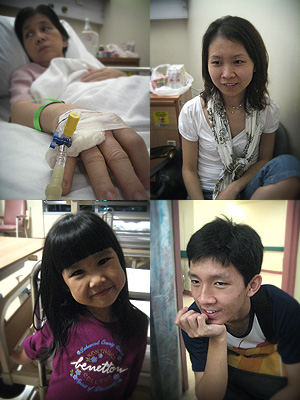 A few weeks back, my mom had a serious case of diarrhea for 2 weeks without knowing whats going on, then came the high fever for several days. After the third doctor have seen her, she was advised to be warded for further investigation.
We all thought it was Dengue, but it was not, then later did we find out that she had Salmonella which later led to Typhoid fever as the bacteria already got into her blood stream.
Once the doctors figured out the problem, it was intense antibiotics drip for her.
My mom have never stayed in the hospital for that many days before and i feel its a good time for her to rest, to regain her sleep as she have been working so hard for too long. Even with this sickness she gets calls from her customers and she still faithfully chat with them on the work at hand briefly before referring them back to the main office for follow up work.
My dad, sis, brothers came regularly to visit her and its always a nice time to just hangout with one another.
I hope she gets well soon and be back to her healthy mode once again.