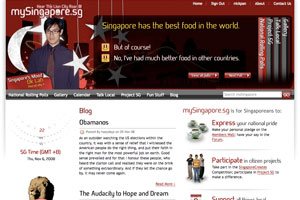 If you're Singaporean, you need to sign up for this website. Other then all the fun stuff like making a pledge on the Members Wall, you can do the National Rolling Polls to impact the mood of Singapore. Currently, Singapore is feeling "Ok Lah!" lol…
I've added my pledge.
Me, a citizen of Singapore, pledge myself as one reliable worker, regardless of travel, waking up early or at times over the weekends, to build a balanced work life based on moderation and long term planning so as to achieve 2.1 reproduction, happiness, prosperity and progress for my family.
~ nickpan on mySingapore.sg Members Wall
lol…
Ok, on the serious side, the website is really trying to serve as a platform for locals to get together to improve Singapore. Check out Project SG where there is a list of such projects.
Calling all Singaporeans! go support support!!