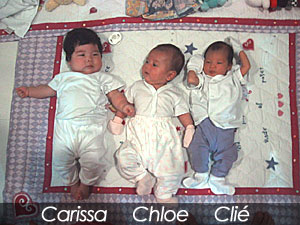 Pearl's sister had a baby girl (Carissa) in September, my sister had a baby girl (Chloe) in October, Pearl had a baby girl in Dec (Clié), so you can clearly see the baby boom in the family. They are all so cute. ;D
Clié stop doing the parappa moves, we are trying to take a picture here… wah lau out of 20 pictures, only this one looks okay, the rest was like one punching the other, one turning the other side, one crying… omg!
I'll try to take one more in a few months time, then i think they will be really different by then.