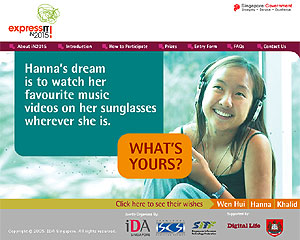 ^ www.in2015.sg
The Intelligent Nation 2015 (iN2015) Master Plan
As with the pace of change in technology, Singapore's infocomm landscape is set to witness exciting developments in the years to come.
Intelligent Nation 2015 or iN2015 — a 10-year master plan is the premise to grow the infocomm sector, and chart the use of technology for work, life and leisure.
Spearheaded by the Infocomm Development Authority of Singapore, iN2015 will be conceived through a national co-creation effort by all who have a stake in the future of Singapore. This includes the industry, government and people, i.e. YOU.