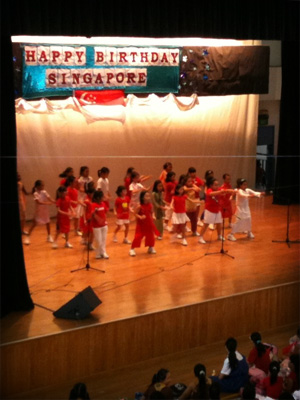 This year I sang the National Anthem, recited the National Pledge for a total of 3 times. The first once was at my daughter's school where a National Day celebration was held in her school. It was really cute to see little primary school girl guides doing the drills of marching towards the flag pole with the flag, the unfolding and raising of flag.
Clié's class performed two dance numbers and I have to say dancing is something she excel in. You can see her in the above photo. She is the middle one on the front row wearing the white skirt.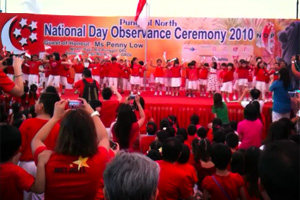 Cleo also performed this year and it was at the Punggol National Day Observance Ceremony. She did a dance number too with her classmates and they sang We are Singapore. The kids were in four groups and when the chorus came around each group represented a different aspect for "This is my country, this is my flag, this is my future, this is my life". Cleo was the third group, so when it was her group's turn for the line "This is my future", she raise a roll of paper which represented certification. Quite cute.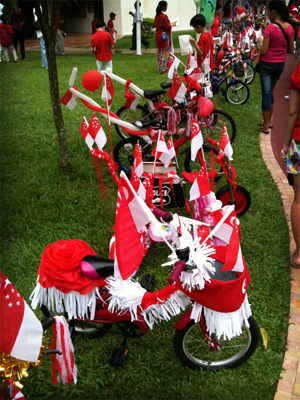 At the Punggol event, there was also a decorate your bike contest, so you can find all sort of bikes decorated with red, white, flags, stars, etc. It was really carnival-ish feel to it. Very nice.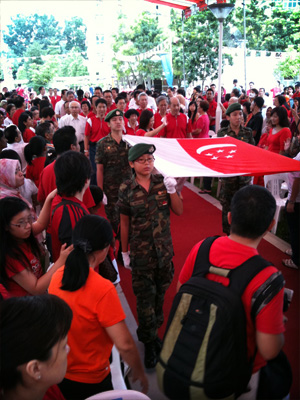 At the Punggol event, there was also the traditional National Anthem, Pledge reciting too, so that makes it my second set.
In the evening, our good friends came over for dinner. We just ordered pizzas and watch NDP on TV. Living in Punggol, we get to see all the planes from Paya Lebar airbase taking off, getting into formation and flying eastwards in their formation, then turning south over Changi and then heading towards the Padang where the main celebrations were. On twitter, I can see so many people from all over Singapore tweeting about the planes flying over where they stay. Suddenly I felt Singaporeans were so close to one another and how dense our tiny country really is. But no matter how small we were, "NDP" made trending topic on twitter.
So during NDP on TV, I sort of did the National Anthem and pledge thing once again which completes my third set.
A few interesting NDP related links:
Singapore Swing (Singapore songs done with a Jazz touch. Free MP3 downloads.)
Fly our Digital Flag (an initiative started by Victor and myself to encourage Singaporeans to put up their flags online. Just before the NDP parade, we manage to get 2500 supporters. woot! You can also see Victor's post here.)
Tweets with "NDP" on 8 Aug 2010 (NDP became twitter trending topic during the parade time.)
The following is taken from mypaper.sg where the "Fly our Digital Flag" initiative was covered.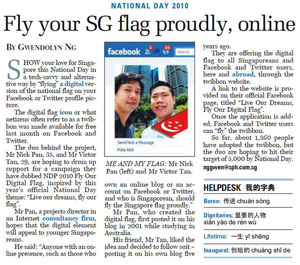 So, we should do something for next year! Feel free to share your ideas here and we'll see what can be done.
Once again. Happy National Day Singapore. This is HOME truly.