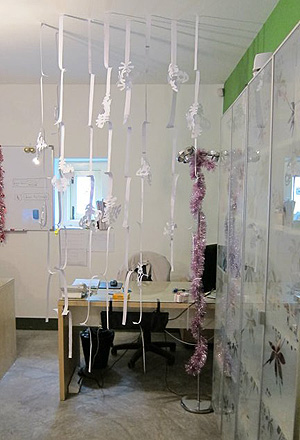 There is a magical feeling from taking an idea you have in your head, then spending time on it to make it happen. The above is how I decorated my desk over Christmas 2010. Used waste A3, A4 paper and some sticky tape.
When was the last time you created something? (instagr.am don't count)
A few tips on how to get started:
It will be cool – No matter what it is, be it a doodle, a paper folding thingy, a song, a pot, a sculpture, a website, a scrapbook, a dish, as long as you do it, it will be cool. You do it for yourself, not anyone else.
See it through – If its not completed, its nothing. If its done half way, its nothing. So don't worry about what other's think or give up half way, just keep at it till the end. If you are drawing or painting, draw more, colour more, fill up the canvas.
Create with others – Have fun and create something together with others. Just take an idea and run. Its meant to be fun and not a project that have a client and budget constrains.
No expectations – Don't pressurise yourself and set a super high expectation. Just go with it and see what happens.
Don't stop – Once you've created something, don't stop. Keep at it, start a second thingy and a third and a fourth and…
I think there is something with making things using our bare hands that gives us a special satisfaction.
Go create something. Do it this week and you will be amazed by what you can come up with.