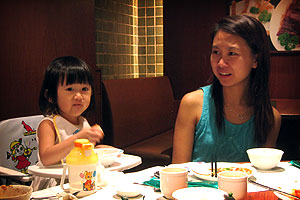 It was Chloe's 2nd Birtday today and as a family we all went out for a nice Crystal Jade dinner at Parkway Parade. Chloe (as usual) seemed very hungry and chowed down on plenty of food, while Clié was just hyper, running a round and screaming on top of her lungs.
Chloe performed her freezing powers over dinner like how its do in Charmed. "FREEZE!" she will say, then do a funny lizard kinda sound to unfrezze you. Ha Ha… that was a good laugh!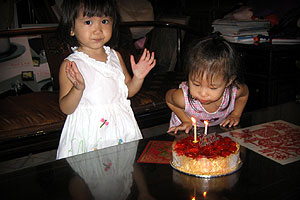 We then went home for cake. A nice strawberry cheesecake with accompanying Clié kiddy organ demo song "Happy Birthday" (which went on like forever).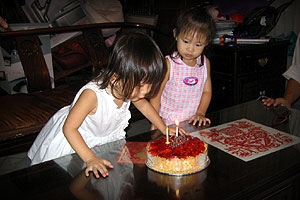 Chloe had a little problem blowing out the candles, she kept making that "F" sound instead of blowing. She is very cute. Clié being very "kaypoh" then helped blow out one candle while Chloe blew out one herself.