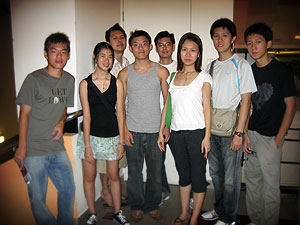 I can't remember if we ever took a picture like this before or not as its almost impossible. I have cousins flying in from UK & USA over last weekend and i'm glad we managed to meet up for a nice meal.
Dominique (UK) have grown so much and its funny talking to her as we always have our silly chats about everything. lol… the last time i saw her was in 2004 when i went to Europe for a biz trip.
Kenny (USA/LA) have also grown alot more matured and i have to say he thinks way older than his age. The last time i saw him was when he came over to Singapore in 2005.
It was definitely a memorable week when they were both over.