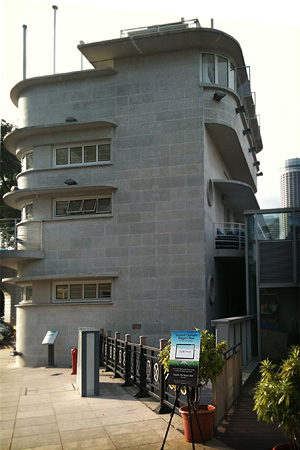 "Breeze is a whole new way of banking that lets you manage your money like never before." That was what the evening of 10 Aug 2010 was all about and it all happened at The Waterboat House.
Those who know me will know i'm currently working at Qais and that I was helping my client organise this meetup with local bloggers. I feel very blessed to be working on stuff that I personally like and on a product that I actually believe in. This is my personal blog ok, so in no way will I be biased ok ok. ;)
The best part of the night for me (although officially I was working) was I finally managed to meet quite a few people i've known online for quite some time and I also managed to make a few new friends that night.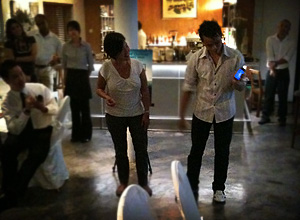 There was magic that night literally. lol… Above you see Joan going up close to experience magic tricks performed by Jack. He was really fast and there was so many OMG! moments. I got no idea where he hides his stuff as he got his sleeves all rolled up.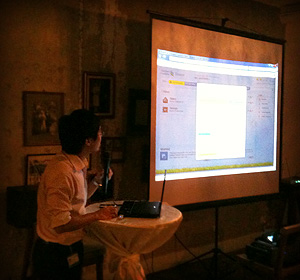 After quick explanation of what Breeze is, Jarmon from SCB demo-ed the Breeze Online interface and shared with us how much he really have in his bank account. lol… There was also a Q&A session and you can see some of the exchanges at Hisham's blog.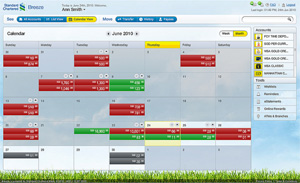 One of the coolest interface was being able to see all your debits and credits in a calendar view. But instead of using normal banking terms like "Debit" and "Credit" (which I struggled with in accounts while in school) red means outgoing money and green means incoming money while grey meant reminders. I really feel this is very cool and so easy to understand especially when i'm trying to visualise where my money in my bank account went in the month.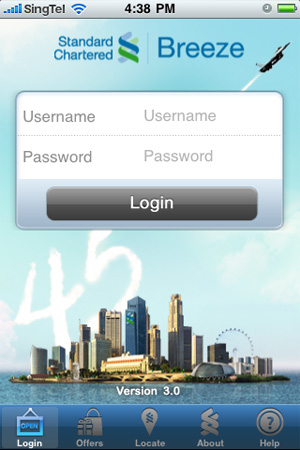 As it was NDP week, the login screen even on the Breeze iPhone app had a nice celebratory touch to it. Sweet.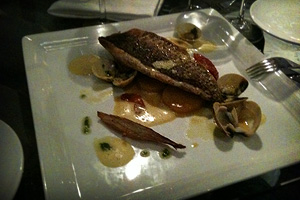 There was food of cause and the main dish was grilled fish! I've been craving for good grilled fish for quite sometime already and when you see the skin STILL nicely on the fish, you know its prepared with much care. You can also check out Sparklette's review of this place.
But value for money wise, i really think Ashton's grilled fish is great too. I just did a search for their website and realised that their website is running on blogspot!! You really have the "we are not so expensive" feeling lol…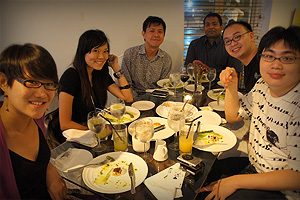 From left: Deafknee, MoleMole, me, Preetam, Aloysius and Lester.
I believe I sat on the table with the most bloggers. There was lively discussions and everyone have extremely interesting jobs, but I doubt anyone can top Aloysius who had no choice but forced to finish SC2 in 2 days in order to review it. I think i've only finished 7 campaign missions up till today.
Its really nice to finally put faces to people whom i've known via domain names and twitter accounts.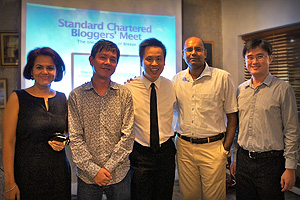 The above 2 photos are from Kevin Lim. See more of his photos here. I think he had some of the best photos of the evening. Unfortunately I did not manage to take photos with the other bloggers like PatLaw, Sheylara, Jayne, Hisham, Joan, Howie and Stephie.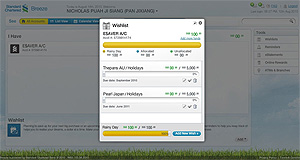 So now Breeze Online is available and i went ahead to setup my favourite feature. Wishlists!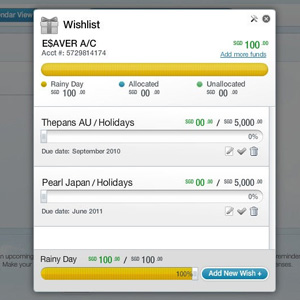 The wishlist feature to me is like virtual accounts. You see I only have one saving account, but I can use wishlists to partition my money and set money aside for stuff.
So i've setup 2 wishlist items for the 2 holidays I'm planning next year. Currently Pearl is expecting #3, so December holiday is out. So the aim is to go Tokyo in June 2011 with Pearl. The last time when we went Tokyo it was just too brief as we followed a tour group, so this time we must go for a real exploration. Can you believe I DID NOT even go to Akihabara at all that time.
And in September 2011 I hope to bring the kids to experience farm stay in Australia during spring. They are too metro already, must rural-ise them abit.
So having tried almost all the Breeze Online features, I have to say its really impressive and intuitive, but problem is also because it appears to be so easy to use, hence I sort of expect it to be perfect, but its not. For example, although its cool that I can set cute icons to specific payees, but if i've already created these payees in my classic Online Banking it seems like there is no option for me to change the default drug abuser silhouette icon. The only workaround I can think of is to remove the payee and recreate the payee via Breeze. I've lodged a feedback via Breeze's internal inbox, hope they do something about it.
Do you have a SCB account? Have you tried Breeze? What do you think of it?