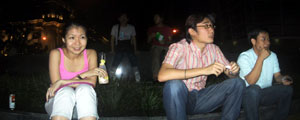 (L – R) Pearl, punkGgin, DaviD, Ganji and Alvin
This new year eve I did not spend it in church like I have did for the pass few years, but instead I went out with a few good friends, my cousin, my brother and my wife.
We went for supper, drove to orchard, WTC, then ended up at One Fullerton. Bought some drinks and snacks from a mama shop and just sat on a pavement. With no expectations, no commitments, no plans and nothing but good company and a relaxed atmosphere.
Seeing the streets filled with Singaporeans made the festive season feel even more like home. Tertiary youth, bengs and lians, yuppies, families, taxis, foreign labour, people from all races and nationality. When I see this, I'm filled with an indescribable anxiety, a mixture of patriotism, passion, prideful, fear, love, rest, anticipation, peace, excitement and a whole list of other spontaneous feelings and emotions.
There is so much to say, yet I don't know what I want to say. There is so much I want to know and learn yet I am contented. Lets see what the new year will bring.