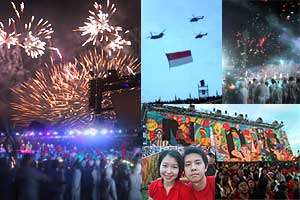 oh yah, Pearl & I went for the NDP Preview. We love to go for NDP, cuz somehow its just fun + its a real celebration kinda thingy. We truly enjoyed ourselves. I really have to thank my Pastor for giving us the tickets.
If you wanna get lyrics, mp3, etc of NDP stuff, you can get it from here. I have to say this year's "one united people" is really nice, i can't stop singing it.
I think now you know i'm super pro-singapore.