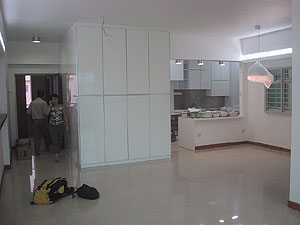 Its 2 weeks now since we moved into our flat in punggol and we are still settling in. We still do not have a dinning table, so when Dezzo and Hazel came over for dinner we had some problems putting food on the table… what table… haha… the lovely couple just came back from their honeymoon at Maldives *so envy*.
We also had John and Ann over for dinner today and we had to bring out the study table… we found out we have got not enough chairs… haha… really love having them over. They live in the next suburb from us, i believe we'll seeing them very often… jln kayu prata… i can just smell it.
I so wanna build thepans@punggol, but i think that has got to wait, cause the past 2 weeks of no net, means plenty of work piled up. So here is a picture for a small preview. But seriously, thats about all there is to see in our house. Its quite plain. This picture was taken before we shifted in.