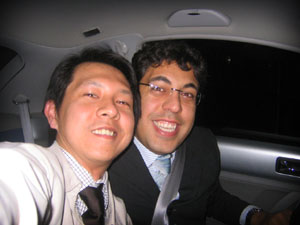 I got to know Lorenzo in Milan during my recent trip to Italy and he shared with me the Characteristics of Romanticism and how it affected society and especially Italy.
In a general sense, "Romanticism" covers a group of related artistic, political, philosophical and social trends arising out of the late 18th and early 19th centuries in Europe. But a precise characterization and a specific description of Romanticism have been objects of intellectual history and literary history for all of the twentieth century without any great measure of consensus emerging.
I've always wanted to know how societies evolve, what is that one thing that sparks of the next thing, what is that one idea that changed the mentality of the masses, one way to find out is to look at our collective past. This research lead me to find another excellent web resource, The Dictionary of the History of Ideas. Excellent website… you can spend weeks in there if you are interested.
Anyway, Lorenzo explained to me alot about Italians, alot about how much they were conquered by others in the past, etc… very interesting stuff…
Anyway, how i got to know Lorenzo was quite strange and he happens to be my first Italian friend (outside of business). He is an Architect and if i did not understand wrongly, he is teaching New Entertainment Design at Politecnico Milano. We were both waiting outside a specialty bathroom shop in Milan on a wet monday afternoon and no one opened the door. He had no appointment, neither did I. Apparently some shops are closed on mondays or at least some shops open in the second half of the afternoon. I got no idea whats up with that, but its interesting to be in another country knowing about how other people run their lives at the other side of the globe.
With a pleasant surprise, he drove me around milan in search of other bathroom shops in his new beetle which happens to be my first time to be in one of those. That drive around Milan gave me a chance to see so much more about Milan than i could on my own.
I decided to buy him dinner and only to have another revalation that italians have sort of a happy hour thing that lasts from 6pm to 9pm where you buy a drink and you can get a buffet of finger food… no woner the few nights before i had problems understanding why people only start having dinner after 9pm.
Anyway it is nice to have a friend overseas and it was really kind of him to avail his time. I do hope i will meet him again.