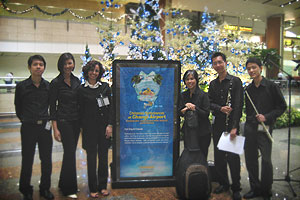 For the past 2 days, i left office early and headed for Changi Airport. Did not bring my passport, cuz i'm not going anywhere. Was going there to meet Cat, Olyna, Pam, Wei Xiang and Ke Jian to form Cat Ong and Friends! lol… what a cute name we got.
Cat Ong is a well known veteran local musician, ask any people in the local music scene and they will definately know who Cat Ong is. Like just this year, she was involved in the Mosaic Music Festival at the Esplanade.
She encouraged me to sing there for exposure and it was indeed a good and new experience.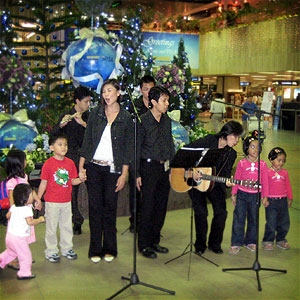 I was also privileged to sing along side Olyna and Pam whom i've been singing with for many years in Church. I've especially learnt alot from Olyna who have taught me vocal projection, harmonising in tenor ever since the late 90s. Wei Xiang plays the clarinet and boy was he good at his solos. Ke Jian plays the flute and he is also very talented in it AND he is only 17!
We did mainly Christmas songs and at times there was some audience participation. What suprised me was the number of people that wanted to take pictures with us.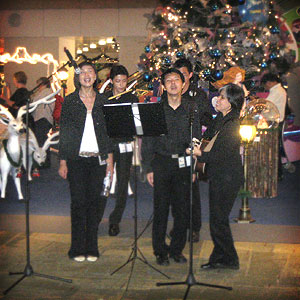 We did 4 sets per night, T1 , T2, T1, then T2 again. At times we even sang when we were moving from one place to another. There was once a few Aussies was singing along with us on the sky trian and that was fun. ;)
In line with my previous post, this is my first time singing in such a small group in a public place.