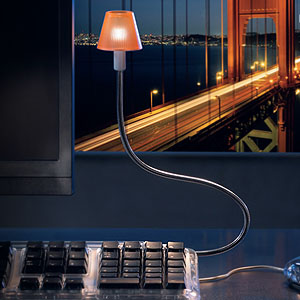 Boynq D'Light
Its so difficult to find a decent USB LED light for my laptop. I've shopped at a few Mac shops, Funan, Takashimaya, misc small shops and finally Sim Lim Square.
During my hunt, i found Boynq's D'Light the most beautiful of the lot and i found it at Takashimaya. However with its excellent design, i did not buy it. The problem was with the shade. I can't possibly put the entire thing in my bad, most likely the shade will break. So i ended up buying a $8 basic simple flexible black coloured neck simple LED light from Sim Lim.
So if you're wondering why i need this at all… its because i luv my wife and would like to switch off the lights in the bedroom when she is snoozing away. As i still need to be able to view the keyboard properly, hence the nifty device.