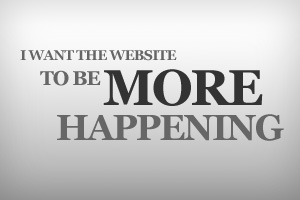 If you are a web designer, the following lines should be common to you:
"I want the site to be more vibrant"
"Make it more professional"
"More happening"
"I like it to be clean and uncluttered"
"I want a refresh"
It doesn't matter if the site you are revamping is a corporate website or an ecommerce site, for a manufacturer or a fish monger, for a real-estate agent or for a hobby group, you probably have heard the lines above before in some form or another.
But is a website revamp just about the aesthetics? An online personification of its website owner? A humorous reminder that almost everyone wants to conquer the world using a budget that might not even be enough for your next gadget upgrade.
Being a project manager in a results oriented internet company, i try to better understand my clients' business. Only when you understand why your client is willing to part with that money, then will the pieces slowly fall into place.
Ok, sometimes they really just happen to have the money and just want to make it "more happening". lol…