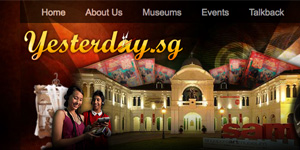 Convertium consulted, designed, migrated and implemented the most popular heritage blog in Singapore Yesterday.sg. You can read more about the site on here. I think it might even be one of the best websites in its category and maybe even in the world. I really think so.
The site is powered by the very popular WordPress blog engine and the timing was perfect as development started just after WP 2.7 "Coltrane" was announced.
This project was done in about 10 weeks and i have to say its one of the proudest project i have worked on. I lead the project as a project manager and had the best team possible to support me in terms of design and development.

A few interesting things from behind the scenes.
We wanted the retain the Yesterday.sg logo, but as it was just the standard Mistral font, we thought that its kinda dry, hence I came up with the idea to put the clock hands at the "a". Our designer animated it & it simply looks perfect.
There are quite a number of custom WordPress plugins developed by our engineer and from the backend, it works seamlessly with the core engine. Very well done.
We migrated 2700+ users from Expressions Engine & almost 1000 photos from the old gallery. The tricky thing was that there was no available script out there to export user DB from EE to WP, hence our engineer wrote one himself! woot! The script also randomly assigned a strong password to all users via a nice welcome to new website email.
The website work with Google Map API and Youtube API.
A job well done guys.