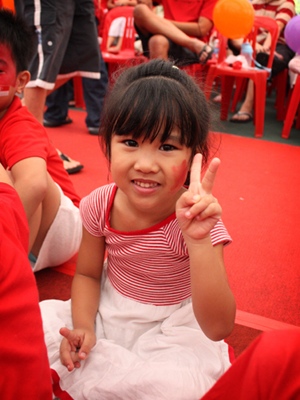 Its 8 Aug 2009 and Cleo joined her class in performing a dance number at a nearby tented basketball court. She was all dressed up in red and white just like her classmates, but i think the dress mommy picked out long time ago is just amazingly beautiful.
We sang Singapore songs like stand up for singapore, home, etc and we even said the pledge. Its all so nice. I feel so at home some what. Its a pity we did not manage to get tickets for the parade if not the kids would have simply loved it. Actually Pearl and I would also have loved it. Oh well, at least we still felt the National Day spirit.
This year is so different from any other year as our country have used New Media heavily to get citizens into the spirit. The NDPeeps website was the main platform for all New Media engagement and there were lots and lots of channels being used. There was the Facebook Page, Flickr, Youtube and not to forget Twitter and more.
The best part was when the parade was shown on TV, NDP became the trending topic on twitter. Everyone had different views of the NDP, some loved the outfits, some bashed it, some were surprised with the pole dancing, some did not get the whole buaya chasing west side bimbo and east side nonya. lol… its funny to see and read about Singaporean's thoughts. This is something you can't get at the parade.
I wonder what NDP10 is going to be like. I think its going to be a milestone NDP next year. Lets hope we get tickets and on top of that still be able to engage citizens digitally.