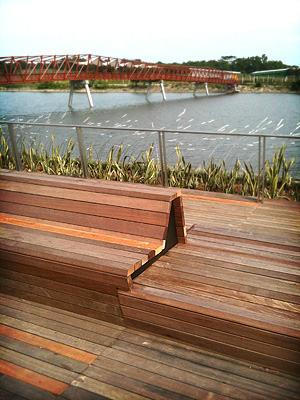 Punggolians all celebrate at the opening of Punggol Promenade Riverside Walk. If you've not been there, you are missing out. I was exploring the place with my architect friend and just by looking at the design of the place, he could tell the place had a style that could belong to Look Architects. I searched for it on the net and true enough, Look Architects are working on Punggol Promenade as a whole and you can see more Architects Impression illustrations of the place on their site.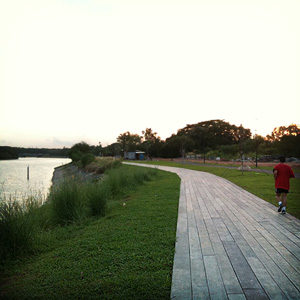 This place is perfect for jogging and they even have jogging paths that looked like wooden decks like Henderson Waves, but you will be surprised that they are actually cement. They used some kind of wooden mould to make these cement slabs. Very very cool. Very nice design touch.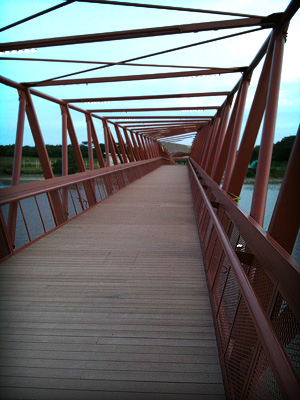 The bridge connecting Punggol Promenade to Lorong Halus Wetland is interesting too. It had a trapezium shape and arced slightly across the river. The maroon colour however I felt was kinda meh. It almost felt like that was just the anti rust coat and they left it as that. Then again, if you looked at the toilets, that full fledge rusty look looks so much better.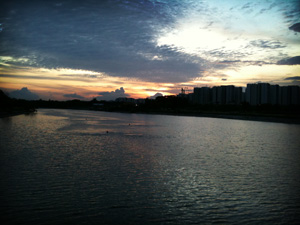 Sunset is now more beautiful over Punggol. I look forward to be able to cycle from my place to my parents place in east coast via the Park Connector Network. you can check out a map of it on Google Maps which was started by my friend Lucian.
My friend W.T.B took loads of nice pictures of this place too. You can see some on his blog and more on his Facebook album.