This year was a blast. Although it was not a lovey dovey kinda thingy, but we had lots of good food with compliments from my bro. He wanted to eat good beef for quite some time now, so he gave me a ring and asked if our kitchen was available on V Day evening.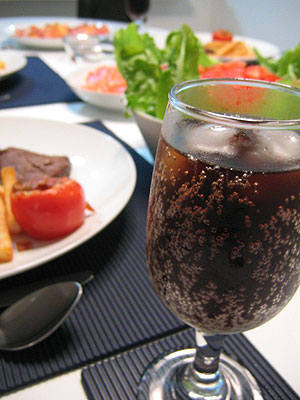 Although we cooked most of the food, some were easily prepared, while the others like the sashimi was bought. We had tons to eat. I've not been so full for ages.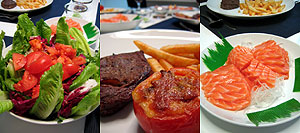 There was beef, fries, tomato infused with chopped mushrooms and bacon bits with warm melted cheese on top, salad, stir fried winter mushrooms, sashimi, calm chowder soup, honey dew wrapped with slices of parma ham. Then after such a big meal, we had durian, strawberries and grapes. Darn was that a big meal for 4.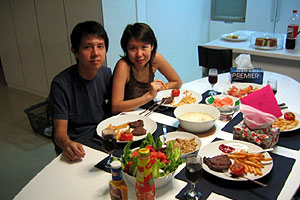 We calculated that for 1 pax with that much food, we actually came out with around $60 each, but its well worth it as it was V Day and there was no need to queue and no need to dress up. Oh yah, we could choose the songs too. Norah Jones and Eric Clapton was on that night.
Till the next exciting dinner at [email protected].