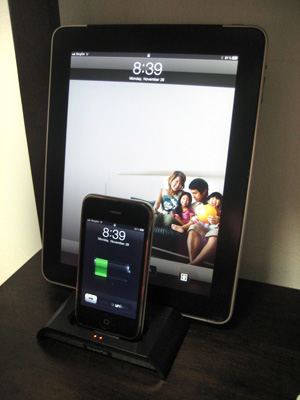 In my room, there are 2 iPhones, an iPad, an iPod mini (Clié's) and an iPod shuffle (Cleo's) that needs charging daily. The whole mess of cables is just too irritating a problem not to solve, so I went online to find a solution for at least a dock that can sit 2 devices.
For what's available in Singapore, I found the XtremeMac InCharge Series Duo for iPad from Nubox.
It charges the iPad and iPhone well, plus its footprint on my desk is small. Problem is the dock is not good if I have an iPad cover on. It simple does not sit well when the cover is on. So if you are looking at docking your iPad or iPhone, do consider what cover you have on.
Anyway, its now used for charging both my wife's phone and my phone. If I could chose again, I would get one that charges 2 iPhones side by side.
What do you use for docking /charging your stuff? Do share, I really would like to know. Photos would be great!