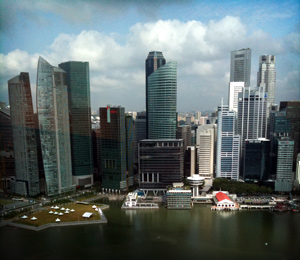 Have you ever thought to yourself, "maybe I should look for another job" or "maybe I should go work in a larger organization" or "maybe I should work in a smaller organization" or "maybe I should setup my own thing". These are very common thoughts and unfortunately these thoughts seem to continue even when you have changed jobs. Why is that so?
Is it the Work?
Is it the Clients?
Is it the Boss?
Is it the Colleagues?
Is it Yourself?
Or maybe it's a mix of all of the above.
Morning Glory
I recently caught Morning Glory and I think it's quite a close representation of the kind of workplace I'm in. The pace is fast, the pressure is high, work is challenging, you need to think on your feet all the time, clients and colleagues can be difficult at times and there is a constant nagging by that little voice inside myself asking is this where I want to be.
The female lead Becky Fuller played by Rachel McAdams is dedicated to her job. She is constantly throwing in 120% but still have to face many difficult situations on a daily basis. The key challenge for her on the job is this purist News Anchor Mike Pomeroy played by Harrison Ford who was forced by contract to do a Morning Show.
Long story short, she had to bring ratings up if not the show will be canned. She had limited resources and a potentially talented team, however a few in the team are making things really difficult for her. Eventually people started getting out of their comfort zone and things started to work out and the show was saved. Then at this point she was offered a dream job in her industry.
Should she go? Should she stay?
This is a feel good movie, so of cause she stayed. She stayed not because her boss counter offered. She stayed not because the dream job was not real. She stayed not because the new job had a crappy environment. She stayed because she enjoys working with the people she works with.
I personally feel, the people we work with on a regular basis would be the key reason we stay or go. We spend around 40 hours with them weekly, possibly more then with our family or friends and as a team we are constantly achieving victories together. So I think its key that we enjoy hanging out with people at work.
Anyway… go catch the show, its good.