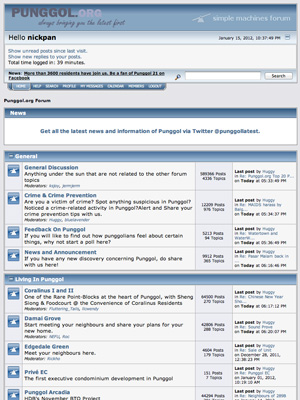 I've lived in Punggol since 2003 and one thing i'm proud of Punggol is the Punggol Forum. If you live in Punggol and don't use the Forum, you are loosing out big time.
As of today, there are 1,245,702 Posts in 15,125 Topics by 7,713 Members. Is that amazing or what. Punggol is truly a very modern town when compared with the rest of Singapore.
A forum can never be successful if there is no one moderating it or promoting it and for those who know who is behind the forum will agree with me that Patrick is doing a great job.
He uses many strategies to drive traffic and the one that I like best is the use of the twitter account @punggollatest to highlight the many exciting discussions happening in the forum like photos of flat being constructed which many Punggolians-to-be are excited about.
To many more good years to our beloved Punggol Forum. :)