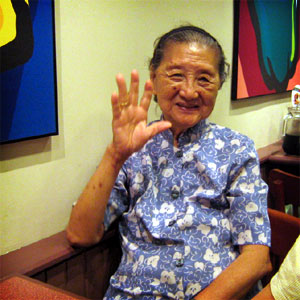 My grandma is old, she is i think 82 now. Her world is very different from mine although we see each other very often. She nags like crazy, stuff like "do you want me to make a cup of tea for you?", "have you eaten?", "go ask the maid to make something for you to eat if you are hungry.", "tell your mother no more rice, need to buy.", "the maid is so horrible." I can understand that she is bored at home and just wants someone to talk to, but since young, her kind of topics was never the kind i would talk about. I came to a stage during Secondary School where i would not even know when she was talking to me, it all sounded like ambient sound.
Now, i've grow older and am cherishing the time i can spend with my grandma. Although i still don't talk to her much at least we have conversation.
She is so hardy, she once fell down the stairs in the middle of the night and everyone came out of their rooms to see what happened, but she just got up and casually say "nothing lah, just fall down, go back and sleep". Trust me it sounded like a big watermelon rolled down the stairs.
My dialect is "Foo Chow" or "Hock Chew" and the only people that speak it at home now is my dad and my grandma. Its nice hearing the dialect… i do miss my grandpa.