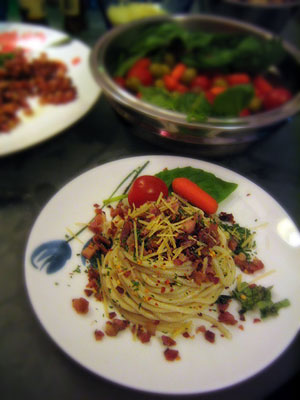 Pearl and I went over to Adrian and Olyna's place together with Dezzo and Hazel. With Clié at home with my parents, we could really relax and enjoy that evening.
Olyna prepared some special bread, soup, pasta and salad, they were all very tasty and we were really full. We never knew Olyna could whip up such an excellent meal and we were definately pleasently suprised.
Their house had a very beautiful feature wall and it was a kind of therapeutic red, rustic and natural, with a beautiful water colour painting by Agnes.
Good time passed so fast that when i checked my watch it was already coming to midnight… That was a night to remember.