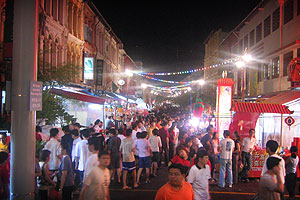 For the first time in my life i was bold enough to go down to Chinatown on the night or should i say early morning of the first day of Chinese New Year. It was crowded, real packed.
All the hawkers were peddling their wares and people were all busy checking out the mountains upon mountain of chinese new year goods. There were munchies, decorations, clothes, drinks, food, party stuff… too many.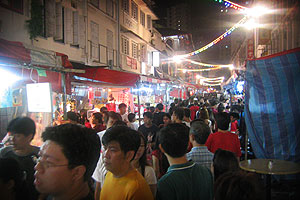 And as it grew deeper into the night, the prices were all falling drastically mainly because thats the last happening night in Chinatown. Everyone will closed for the next few days, so its quite interesting to see many things falling down to just a dollar when the lights went off and the dismantling start showing up.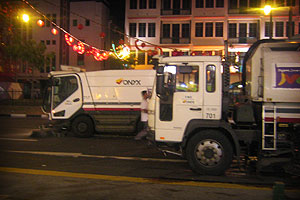 Love seeing the stuff behind the scenes and managed to catch a glimps of how our country cleans up itself after a big event. The garbage trucks all lined up as if they were going to race. Very cool. They maybe challenging to see who collects the most garbage. hee… respects.