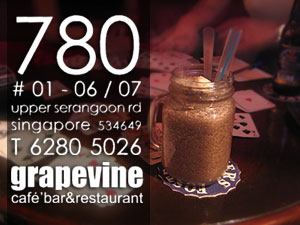 I think i'll have to start off a Grapevine Yahoo group, cuz there are just to many people asking me about it. If you have not heard of Grapevine, its a nice Café, Bar and Restaurant hang out kinda place at Upper Serangoon. It has a nice non-smoking, air-conditioned section which is like a café cum restaurant, a smoking section with pool table that serves quite a number of drinks, there is also an out door dining area. On soccer game nights, they would setup a nice big screen and project the game for fans to see.
Anyway… if you've been to Grapevine, do share with others what you think of it at the Grapeviners Yahoo Group. If you've got photos do share too.
I'll see you there and oh yah pls help me spread the word.