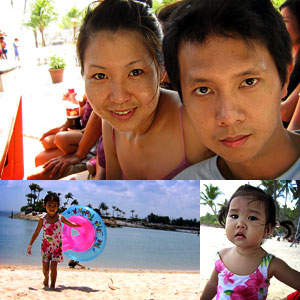 As some of you know i've lost my camera recently and have not been able to take pictures to blog about, Pearl managed to borrow a camera from her work place and finally we have some pictures.
Its was a long week for both Pearl and myself, work, work, work and more work. After finally re-aligning myself to my first love i'm loving every single second of it in what i'm currently doing. Anway after feeling really bad, we parents prioritised and made time for our kids and went to Sentosa again. I promised myself, no work for the day!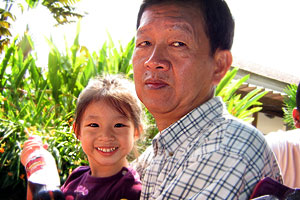 We even managed to bring my dad with us.
The day went something like, woke up, went to my parents place, picked up my dad and the kids (they stayed over at my mom's place the previous night as we went for Rojak4), headed for Sentosa. Had Sakae Sushi for lunch by the beach (i think i like sushi alot). We settled at the eastern most end of siloso beach near the breakwater and the kids went wild with sand. Apparently Cleo likes to sit in the float and bob around together with me. She was in the water for so long that her fingers all went crumply.
My dad had a nice nap on the beach in the shade and i think thats really relaxing. I'm glad he made time to come along.
As usual, the kids had to play at the fountain area as usual. I think its real fun even when we have been doing if for at least the 4th time now in just a few months time. Everyone showered, changed, loaded up the stuff in the car, then we took a round trip on the tram to the other end of Siloso beach and back. It was fun, we felt like tourists. After that we said good bye to Sentosa.
Than at night, my parents and my grandma came over to my place for a simple steamboat dinner. And after dinner we went to Punggol Marina for a stroll along the docks.
What a wonderful day. Thank God for family, Thank God for reminding us that we have to prioritise our life with things that matter to us. Have you been to Sentosa lately? If not, you should, with your kids, family, friends… its an excellent place.