The second Singapore Design Festival happening from 28 Nov to 8 Dec 2007 is a biennial event to celebrate and promote design as a propeller of the new economy.
I'm so glad Singapore embarks onto stuff like that, but do general Singaporeans appreciate design at all? Ask your fellow Singaporean friend "When was the last time design mattered to you?" If the person waited for 5 seconds, then design does not really matter to him / her.
Personally I think design is way way important, its like why have something when you can have it well designed as well. There is always a stigma as well that "Designer stuff" is expensive, but do you know that everyday stuff like the bus stop, traffic lights, even your humble tissue packet needs to be designed, design is not just posters and fancy products… design is a way of life (wah damn cliché statement, but its true!).
I remembered in 2005 i attended designedge05 event which was part of the festival and it was great. Saw lots of local talents, things happening in the design scene and the constant reminder that design IS important nagged via mainstream media really makes me happy.
The Singapore Design Festival this year is filled with events this year and i'm particularly interested in Inventioneering Architecture (facebook event) happening at Vivo City and Blurring Boundaries – Design Lecture by Karim Rashid (facebook event). Of cause Rojak 10 (rojak.farm.sg) as well.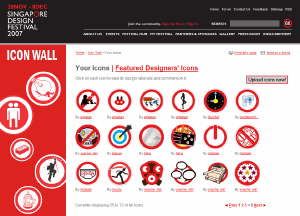 I've designed a few icons and submited them to the design festival's Icon Wall do comment on them. :) You can also join the Design Festival's Facebook group to keep updated on the happenings.
So from now on, keep an Open Mind… let your ideas take flight. :)