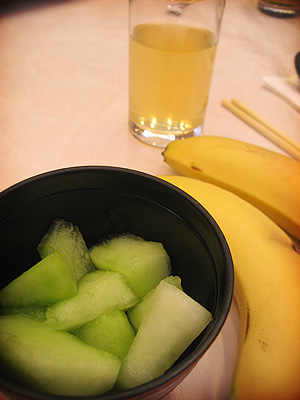 As the hotel we were in is not a fancy place, the breakfast was not very fancy too. I was not sure if it's a Japanese type breakfast or not, but I decided to have a fruity breakfast after tasting some of the breakfast items in small quantities.
Half way thru breakfast, there was a 2 – 3 second rumble and I found out from our tour guide that Japan gets around 200 tremors in a year, hence I think we are quite lucky to be able to experience it.
Its off to Disneyland after breakfast and we had plans to explore Tokyo more than stay in the theme park for the whole day. Anyway, the tickets were already paid for, the transport have already been arrange, so we thought we could at least spend sometime there.
Tokyo Disney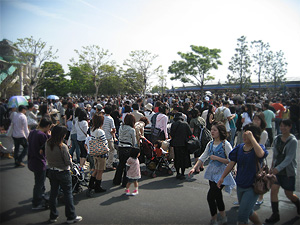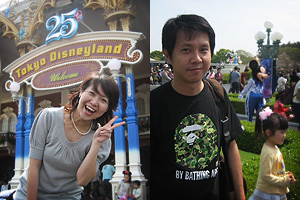 When our coach drove into the car park, we could already see the huge queue that was trying to get in. Apparently Disneyland was not built for the foreigners, but for the locals, so Mickey spoken Japanese, Minnie spoke Japanese, all the Disney characters spoke Japanese.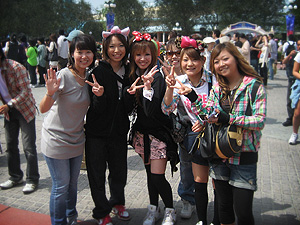 Of cause we took lots of photos, but the most interesting one would have to be when Pearl wanted to take pictures with the local Japanese girls.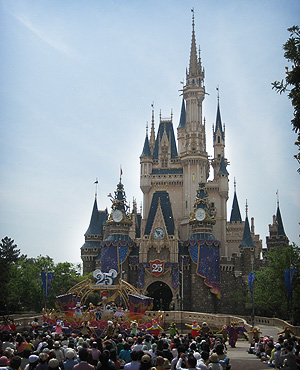 It was Disney Tokyo's 25th Anniversary, so we at least waited to see just one show and the rest of the time, I was more like shopping for Disney merchandise. And just for the record, we did not even take 1 ride, we are not the ride riding type.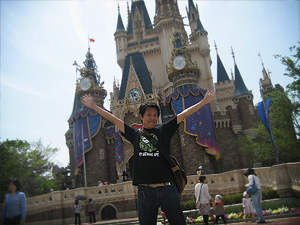 We do feel kinda guilty not bringing the kids, Clié and Cleo would've loved the castle. Anyway, we bought some gifts for them and if we do come back to Tokyo for Disneyland, we will sure bring our kids.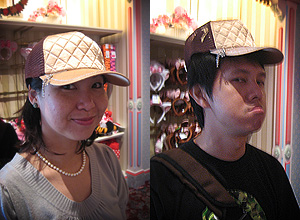 Ok, enough of Disneyland its time to explore TOKYO!
Tokyo and Ginza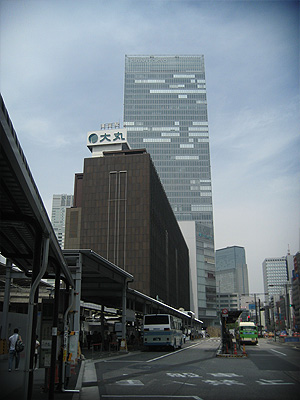 With some advise from our tour guide, we took the train to Tokyo. Before jumping onto the JR Yamanote Line, we went out of the Tokyo Station and had a look see at Central Tokyo. I mean, you did not go to Tokyo unless you have been to the main Tokyo Train Station right.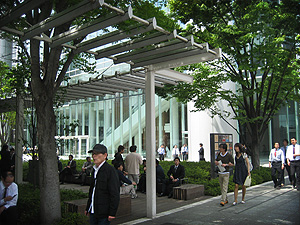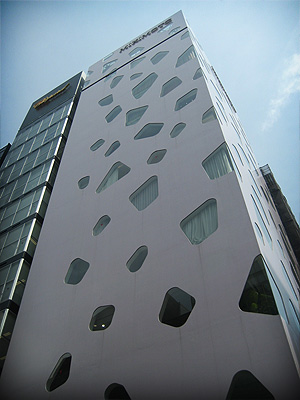 Its May day, so no chance to see the crazy human traffic, but good also as it was not so packed.
After a short walk, it was off to Ginza where we walked around to look at up-market boutiques we had lunch there at a small café and next stop Shibuya.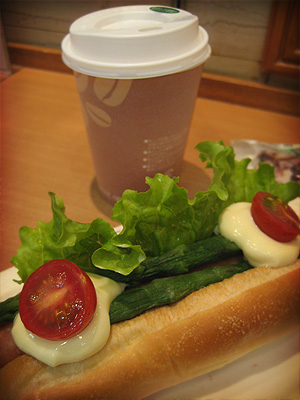 Shibuya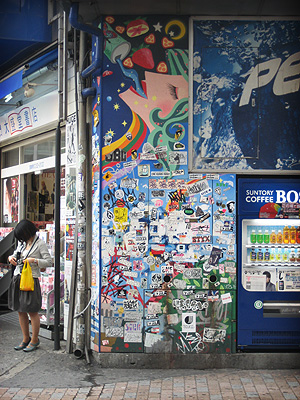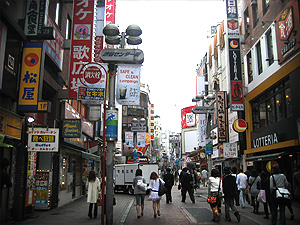 Shibuya was pretty happening, there were a lot more people there and the shops were all vibrant with life, there were so many people hanging out at the train station and the main junction was huge.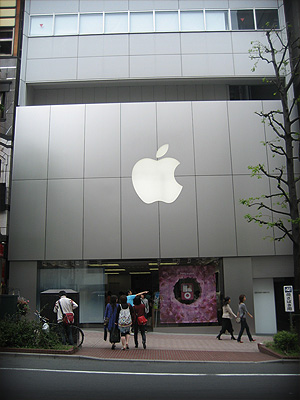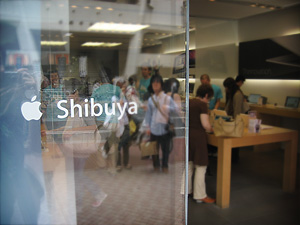 We walked a lot here and came across the Mac shop, walked in for a short while and checked my mail to see if the Hotel T'Point had confirmed our reservation for the 2 days we have extended. Too bad, but they have not gotten back to us.
Harajuku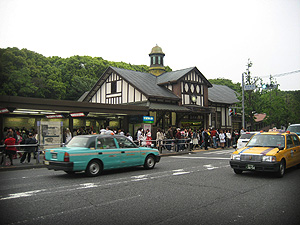 Next stop, Harajuku the international capital of Cosplay and Gothic Lolita. I was hoping to see more exaggerated stuff, but what we saw were still quite mild.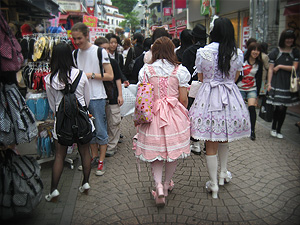 While Pearl was busy checking out a particular cosmetic shop, I waited outside to look at the crowd. The most interesting character I saw was surprisingly not any Cosplayer (I think that's what they are called right?) or any of the full black zombie costumed Japanese, but it was this good looking guy who wore a big fluffy hat. At first I thought he was waiting for his girlfriend or something, but when he darted out from his relaxed position, he caught my attention.
He would walk a long side a pretty girl for a bit, then chat her up. He does not seem to be selling anything nor was he trying to make the girl go to a shop like what a lot of the African Americans were doing. So after observing his third move, I derived that he should be a "talent" scout. I leave the kind of "talent" to your imagination.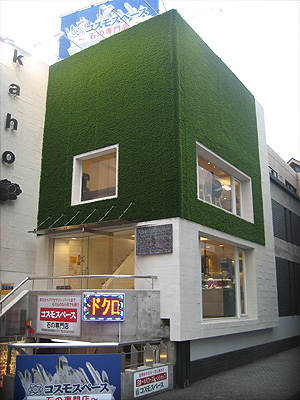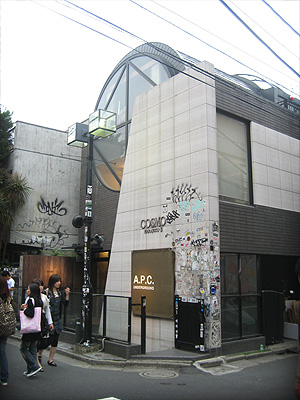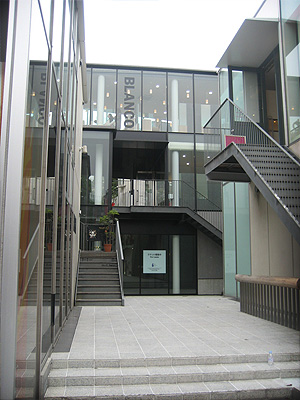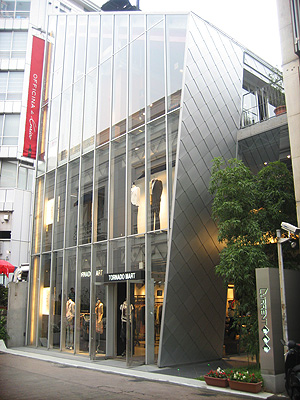 We walked on for a bit more and start to discover many small cozy buildings and more expensive street wear boutiques and this is the first time I went into a Gravis boutique. Back to the train station and its time for Shinjuku.
Shinjuku
Its dinner time, so before we went out of the station, we had our first go at having the typical Japanese vending machine dinner.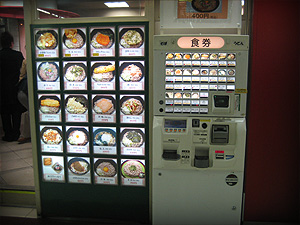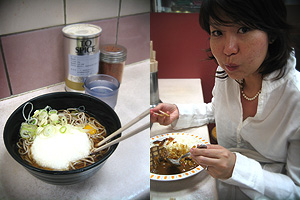 Shinjuku is colourful and its where Takashimaya is. The place really feels up-market and even the bins were beautiful. The toilets are superb and Toto's washlet still never fails to amaze me even after being in the Toilet business. But the best part of the whole toilet was the view. You could literally see Shinjuku.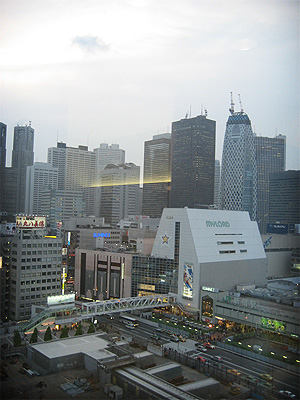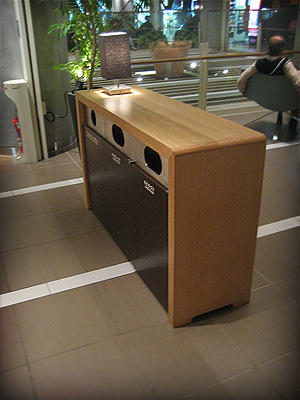 We walked around to see the loud neon signboards, the after office hours drinking crowd and before we can see any more, very very unfortunately my tummy forced me to visit the loo for several times. It was getting late, we were both tired and decided to head back to the hotel. Shucks, we knew Shinjuku is the night life capital of Tokyo, but just too bad our bodies wanted to head back to the hotel.
The biggest regret of the day for me would be that we did not manage to go to Akihabara which would definitely been a geek out place for me.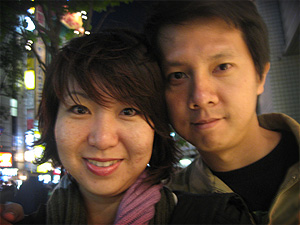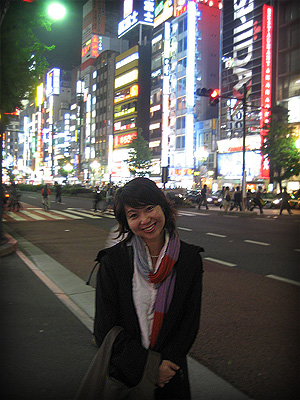 Ikebukuro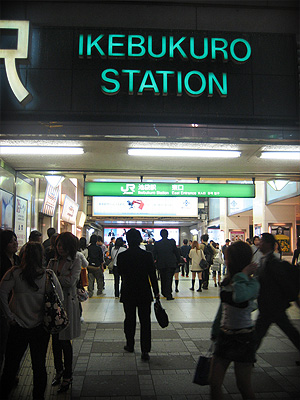 Its Prince Hotel at Ikebukuro Sunshine City for tonight. Staying at the 27th floor its quite nice. Zzz…