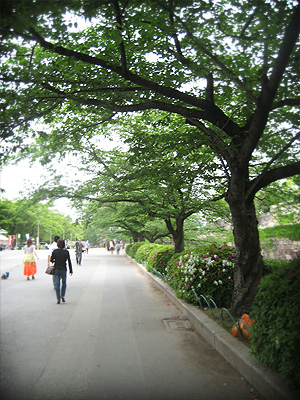 Osaka. The second most busy city of Japan. Our traveling in Japan stops here and Osaka is where we will be for the next 4 days. Today, we start of our tour by visiting the Osaka Castle.
The path up the castle are all cherry blossom trees, but we were just a few weeks late to view the magnificent view.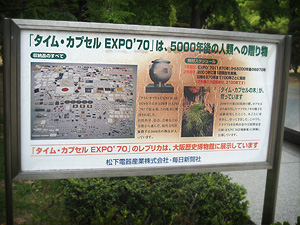 There was also a time capsule near the castle and it contained many Japanese technological advancements. This is a serious thing as they plan to fully open it only in 5000 years. omg!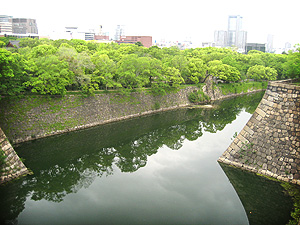 Can you imagine a moat this wide It will be a real challenge to siege the castle.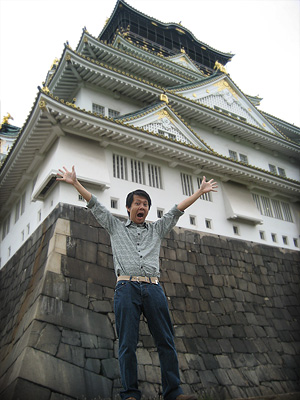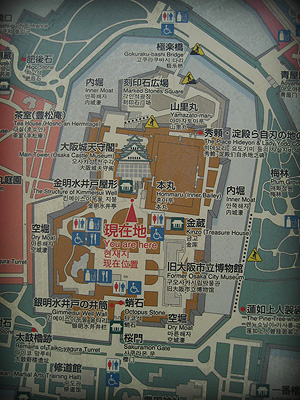 After walking around the castle, we moved on to Universal Studio.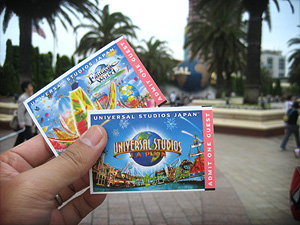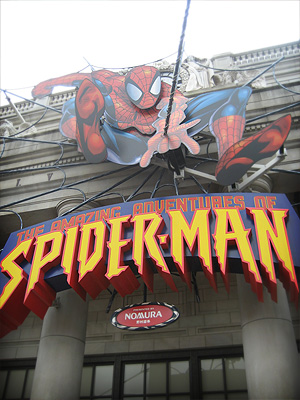 We were excite to take the rides and seeing Spider Man having almost no queue, we ventured in. Apparently there was a queue, but it was in this big hall indoors. It felt like there was almost 300 – 400 people in there. Darn! We walked out for sure. Apparently the queue time for Spider Man was 160mins. There was absolutely NO WAY we are going to spend that long in that hall waiting for a ride.
We entertained ourselves and walked around the theme park enjoying the setup and taking pictures. The best part of cause was both of us enjoyed theme parks the same way. It would be a big problem if one of us really really wanted to queue for the rides and the other did not. I can so imagine the sparring of words already… "We came all the way here and don't take any rides???" I'm glad we did not have such verbal sparring.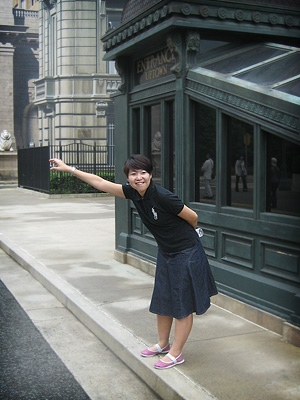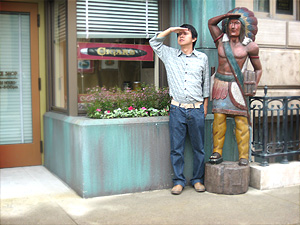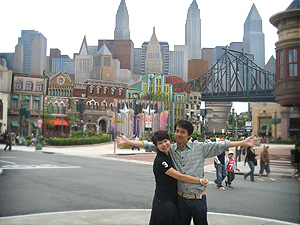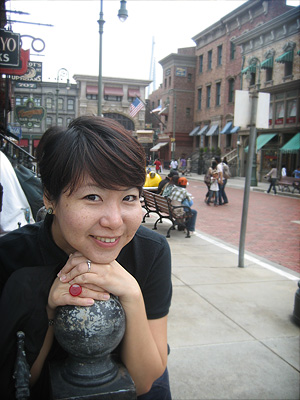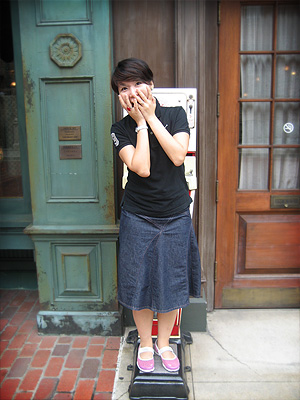 Yes she was standing on a weighing scale and her candid pose reminded me how much i love this girl.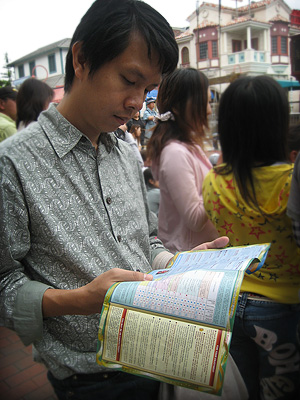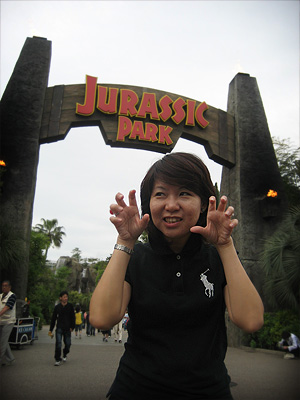 This pose is so funny.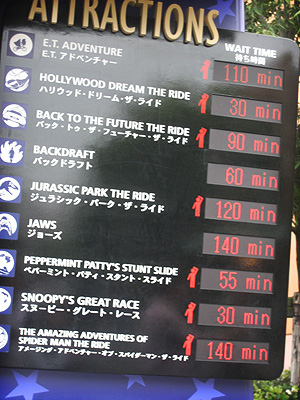 We came across a digital board and it showed the queue times of all the rides. WAH LAU!
However we did take one ride, as there was no queue. It was the merry go round for kids in the Land of Oz. lol…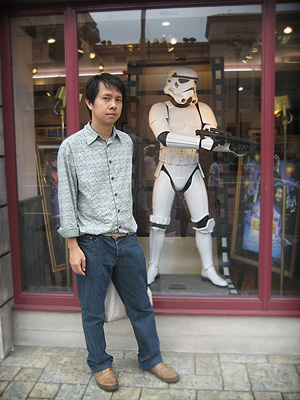 Did not get to meet the famous Tokyo Storm Trooper, but still manage to get a picture with a trooper. lol…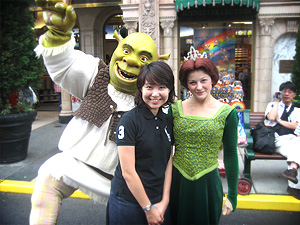 Pearl met Shrek and Princess Fiona.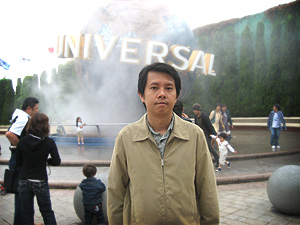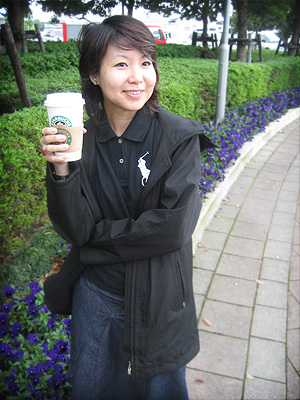 We did not fail to find Starbucks once again.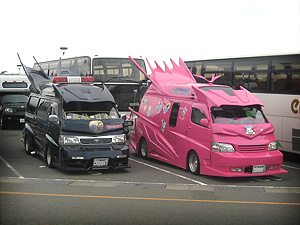 If you think the ah bengs in Singapore are very beng, what do you call this? I can understand the coolness of it, cuz when my friends were coiling copper wires around their Tamiya cars, i was busy decking it out with all sorts of decoration. Who needs speed when its looks freaking cool. lol…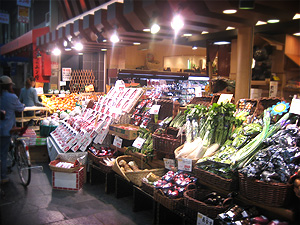 After Universal Studio, we went to the Black Gate Seafood Market. Everything looked big, beautiful and fresh.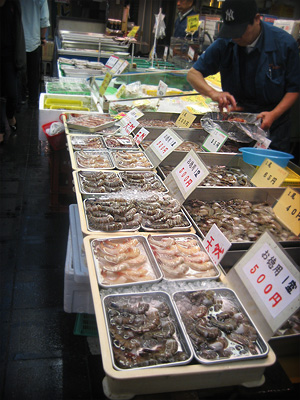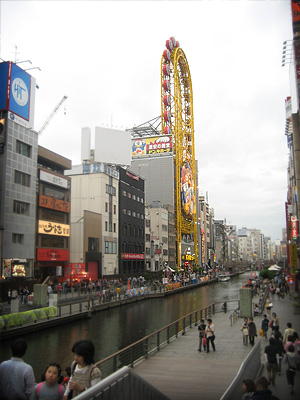 As we were already in Osaka Shinsaibashi area, we walked pass the main bridge. This IS Osaka, you did not come to Osaka if you have not walked this bridge. Everything was colourful and loud. We are so so so glad we extended our tour for 2 days of free and easy to explore this place.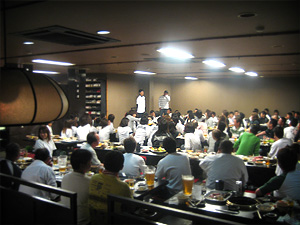 Dinner was at a indoor BBQ place and the place was packed. Apparently there was a junior base ball league team in the restaurant and all their parents were there too. Each of the boys came up to do a short intro for themselves and the parents came up too to thank the crowd.
Later i found out from my Japanese friend that its not easy to stay in a baseball team in high school. If you've made it past 1 month, its a good reason to celebrate especially its the time of the year when a new team is formed.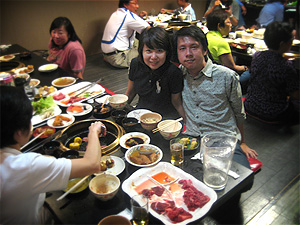 We definitely enjoyed the day.