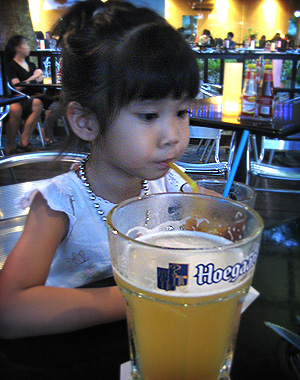 What a wonderful Saturday it was.
Got up at 7:15am and went jogging. Came back, read the papers, had a shower then went straight back to bed. lol…
Kids came back from Chinese class and we got ready for lunch at home.
Brought Cleo to afternoon phonics class, then headed to Starbucks, to have my latte and got some work done. Wife brought Clié to Popular to get some stationary and books, hence i had peace and full concentration.
After picking Cleo up from her class, we headed to Ikea and got hotdogs for the kids as a snack while waiting for their turn to go into the play area. Had tea and chicken wings with wife, we chatted. Got the kids out from the play area and we only bought a $2.90 clock.
We then headed to Punggol Park and had dinner at Bliss.
Wife, kids, food, beer…
Reached home, showered and slept at 9:30pm.
What a day. What a Saturday.