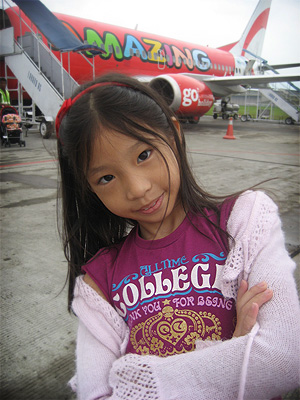 This school holiday, Pearl planned for the whole family to make a trip to Bandung to visit her sister's family. They were there as her husband was posted there for a year and the family is putting up at a nice big house that could accommodate us and more. My in-laws went too. The kids were counting down to this day since mid Jan i think.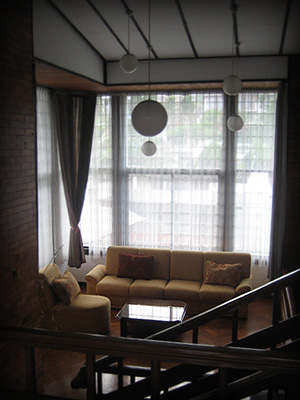 The house is really huge. This corner have got to be my favourite as it had a loft. The sheer existence of this loft broke the structure of the whole house. So its quite clear that the architect meant for this part of the house to be a key feature. Its also cool that the pendant globe lights added to its ambience at night. This is just one of the three "living rooms" of the house.
The family had a house keeper, a baby sitter, a gardener and a driver. So these 4 people were somewhat at our calling. I so can't get use to this.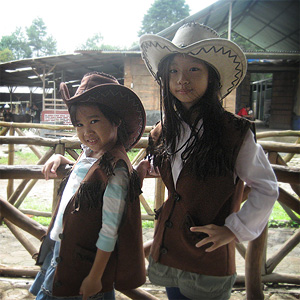 The first morning, we went to De'Ranch. It was an outdoor place where kids could ride horses, do some fishing, do rock climbing, etc. Its quite a nice day out with kids kind of place.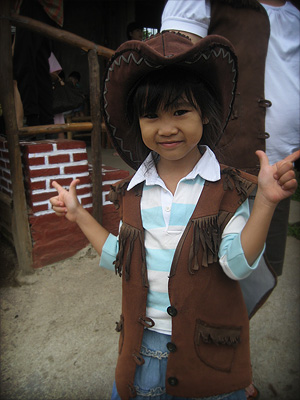 Cleo loves the horse ride and thinks the cowboy outfit suits her well. She somehow knew that cowboys had guns.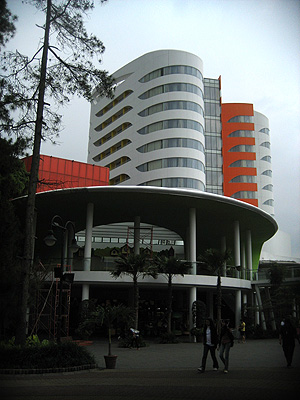 Most of the other days was spent travelling around Bandung going from factory outlet to malls, to salons, etc. This here you see is the Sensa Hotel at Cihampelas Walk (aka CiWalk). It really stood out from what Bandung is.
But the hotel that i really wanted to see was Hilton Bandung as a good architect friend of mine told me its one of the nicest buildings in Bandung. I managed to pass by it at night and it looks great even at night.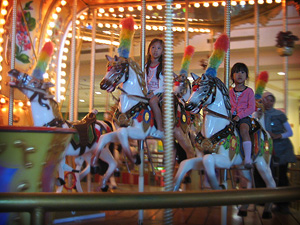 One of the days was spent almost fully at Bandung Supermal. It had a huge indoor amusement park Kota Fantasi. There was even a rollercoster, bumper cars, games galore.
The amazing thing was Cleo wanted to sit the bumper car and she sat for a total of 6 times and she is really good at driving. She also did the row boat thingy twice.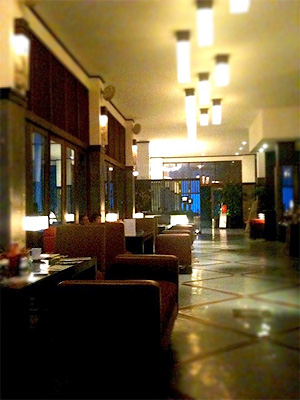 For late afternoon tea and dinner, we went to Sierra Café and Lounge. Its way up in the hills and overlooking the city of Bandung. Its surprising to see such nice place in the middle of nowhere. The interior is beautiful, but i went out to take a look and the external is skeletal. Its not even done up properly. I guess thats just how things are. I think this is some kind of agile construction. lol…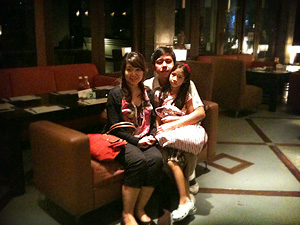 Cleo ran off too quickly, did not manage to get her for this family shot.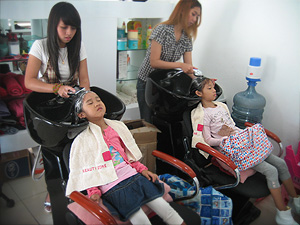 Since mommy and grandma wanted to experience the very amazingly affordably wash and blow, the kids also joined in. They even got their nails done.
We found out that these girls that worked in the salons are not even getting SGD100 per month as basic salary. What a huge difference our economies are.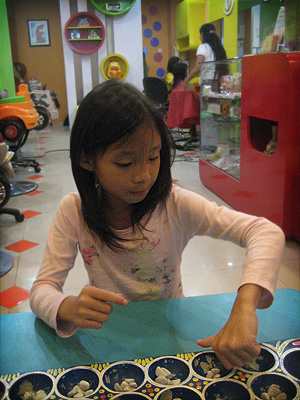 Both girls also got their hair cut at Paris Van Java. Its now super nice with layer and all. While Cleo was getting her hair done, Clié and me had 2 games of Congkak and she won both times. That evening also went to catch Alice in Wonderland at the mall.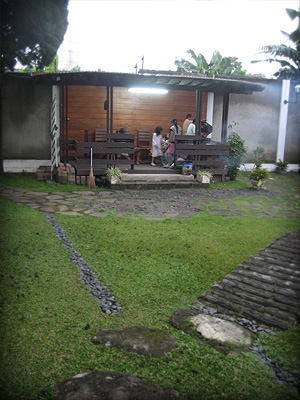 Since the house had a little BBQ shelter, we had a BBQ. Cool weather, hot food, beer and my loved ones.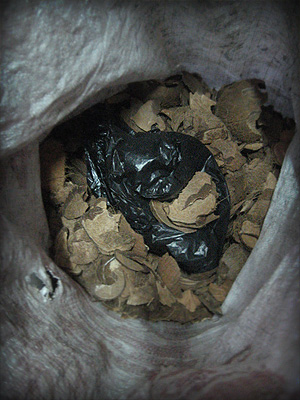 The cool thing is that charcoal was not used, instead we used coconut husks. Apparently its very common. Lots of smoke, but other then then, no soot. way cool.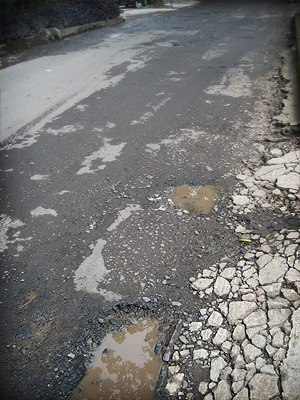 During this trip, the girls got exposed to another country, a country not like Singapore. They were genuinely curious why were there kids begging on the roads, why were there potholes everywhere. Clié asked me, "Daddy, why the road have so many holes", instead of answering her, i asked her "who do you think should take care of the roads?", she said "Us! Because we must protect our environment." KUDOS to MOE for teaching the green movement. I tried to explain the concept of government, but i think its too big a concept for the girls for now.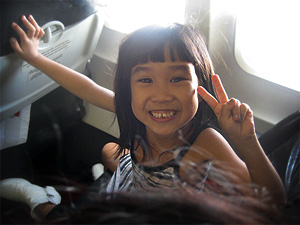 Cleo enjoyed the trip tons and she looks great with bangs and her new layered hair. Clié spent good time with her cousin, but that also mean the fights and quarrels. We managed to do some decent shopping, experienced another culture, got out of the daily routine for a week and its all over in 9 days.
The best part for me for this trip is where I got to spend time with my 2 girls one-on-one and had interesting conversations. I even introduced Clié to Taylor Swift and printed out Lyrics for her, so now her favourite songs are "Love Story" and "Fifteen".
One big reminder to myself, always check the weather. Don't assume Indonesia is warm.