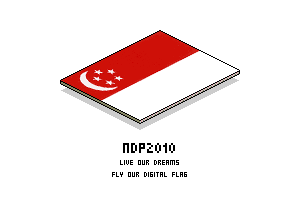 I put up this digital flag every year 1 month prior to our National Day and blogged about it in 2005 and 2007. Basically started doing this on my blog when i was in Australia back in 2001. But this year Vic suggested to get more people to fly our national flag digitally. I think its a good idea (hanging outside your window is so pre 2010).
So there is now a Facebook Page with a short URL http://j.mp/sgflag and this will be like the Cause HQ. :)
The following are the few things that you can do to start flying your digital flag.
1. Place a Flag on your blog!
DOWNLOAD the banner from here and link it to http://j.mp/sgflag
2. Get a Twibbon
If you use Twitter, get a Twibbon here and ask your friends to add it too.
3. Get the Twitter Background
DOWNLOAD the Twitter Background from here and change your Twitter background if you like.
So what are you waiting for NDP is just round the corner. Lets try to get 1 million digital flags flying. GGG!