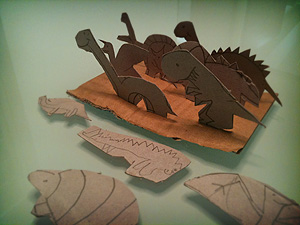 Not too sure why, but Cleo have been very interested with Dinosaurs this week.
She passed me lots of cardboard taken from boxes from Clara's presents and asked me to draw dinosaurs on them. I really can't recall how dinosaurs looked like, so roughly did a few and she did a few. She complained she did not have any books about dinosaurs and hence we need to get her some dinosaurs.
She then started cutting them up and playing with them. We had some more thicker cardboard so I cut a few slits into the cardboard and stood the dinosaurs up.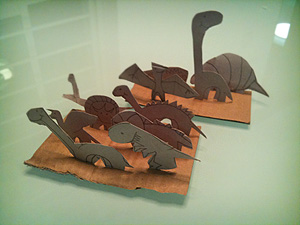 The out come was actually quite nice. This reminded me of the last time we did slippers from cardboard.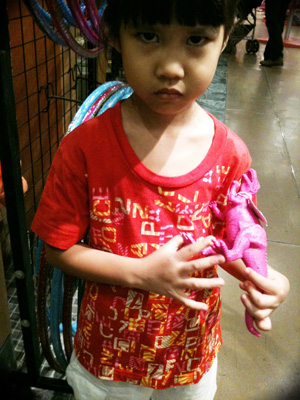 Pearl's confinement period just ended and she needed to get some stuff from Tangs, so we were at Orchard today. Cleo saw a dinosaur and keep nagging "I want dinosaur, I want the pink dinosaur". OMG… She kept saying it all the way till dinner. I don't mind her liking dinosaurs, but a $16.90 pink plastic T-Rex that does nothing? Did I mention it was PINK!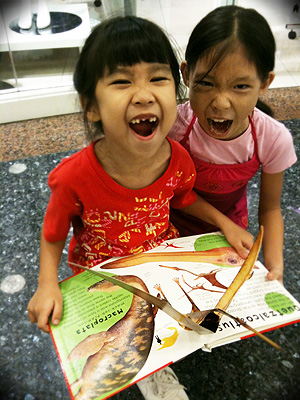 During dinner she still kept nagging in my ear "I want dinosaur, I want dinosaur…". My mom never nagged me so I'm seriously not used to nagging. Ok so after dinner, we dropped by Borders to look for a book about dinosaurs and we did find a nice one with pop-ups.
Now Cleo is one happy kid.
Being a parent is not easy especially when your kid throw tantrums in public, cry, makes faces. *sigh* but these are also stories that we will tell them when they grow up. When they have their own kids, they will have their own experiences. I was told I threw tantrums too when I was a kid. So I know where she got it from. *sigh*.