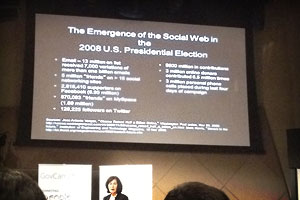 I was at the first GovCamp Singapore earlier this year and am glad and went for the second one on 18th November 2011. You can see the full agenda here. Was slightly late, but managed to catch the Keynote by Jane Fountain. Her role is super cool, she is the Professor of Political Science and Public Policy, University of Massachusetts Amherst; Director, National Center for Digital Government. Anyone's title that have the term "Digital Government" is super cool.
There was a lot of talk about social media and from her sharing, she have clearly studied many countries and how Governments use social media. She made a good point that in the 1960 Presidential Elections between Nixon and Kennedy, television was a new technology and it was also the very first time a live televised presidential debate was held . Without a doubt, how the candidates looked on television was apparently how the public judged their capability to govern. Its quite superficial, but thats reality. This draws a very good parallel on how our current politicians in Singapore are judged by the way they use social media.
Following that, there was a panel discussion by Jane Fountain, James Kang (Assistant Chief Executive, IDA), Prof Ashish Lall (LKY School of Public Policy) and Dr Pallab Saha (Institute of Systems Science at NUS). There was a lot of talk about data privacy and its good to know that there will be a new data-protection legislation in Singapore come first half of next year. Yay, no more random sales calls.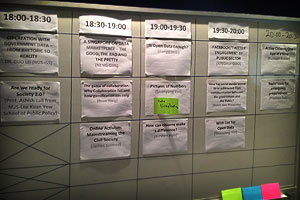 That was then followed by food and beer. If I don't recall wrongly, they were actually serving Schneider Weisse beer and I have to say its pretty good. Then came the main event which was the breakout sessions. There were quite a number of good one and the first I went to was Prof Ashish Lall's session about Society 2.0.
It was quite an intellectual discussion carried out in plain simple english. Basically, everyone was challenged that if we wanted change, we should do something about it and not wait for someone else to do it.
A few cool sites he shared: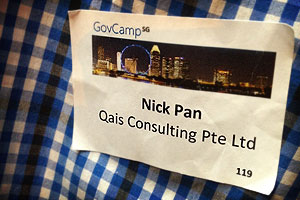 I then managed to catch a few other interesting sessions as well. Yin Shanyang shared on data visualization and his work on the Melbourne transportation which was really impressive. Robin shared on Using Social Media which led to some good discussions about how local politicians used social media in the last general elections. Preetam then led the next discussion around Social Tool for Emergency Preparedness which was an open brainstorming session.
This session gave me 2 ideas:
Why not have a website to allow commuters to volunteer their commuting habits. Where they live, when they travel, from where to where, what do they use. If there is a sizable sample size, this publicly collected data could allow the authorities to better plan public transport?
Local developers at GovCamp mention that most data available at data.gov.sg is not really usable, hence not possible to use or create anything. However, I think why think about just Singapore? Why not use available data overseas to create the app ideas and just show the relevant authorities locally and tell them if the data is available in a particular format, then the application can immediately be used in Singapore as well. But the assumption is of cause the application is a good one.
Overall, I really enjoyed this GovCampSG and hope that it will be even better next year with even more breakout sessions and constructive ideas exchanges.