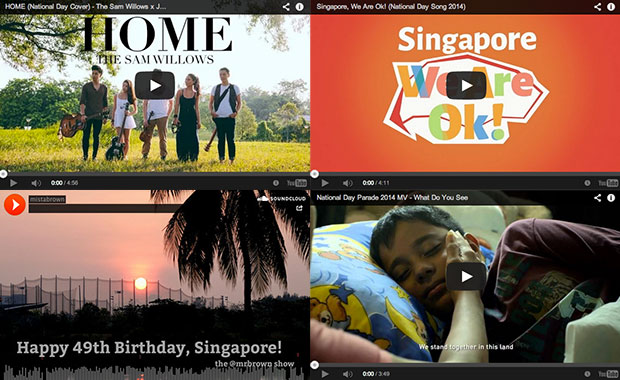 Happy 49th Birthday Singapore. This year there will be no official National Day song, but what that means is that there is an opportunity to do a great one next year (SG50) and for anyone to do one this year. So net net, we might get more songs this year. Here are a few Songs that have surfaced and I'll add more to this post when I find them. Do comment at the bottom if you find any new ones. Thanks.

HOME (National Day Cover) – The Sam Willows x Josh Wei.
Really nice rendition, very nice feel to it and I think it will be another classic by the Sam Willows. Home by Kit Chan is already an all time favourite by Singaporeans and a new arrangement was done back in 2011 accompanied by the Singapore Symphony Orchestra (SSO).
Although I loved Sam Willow's rendition, it somehow lacked that cliché mass audience touch. Not a bad thing at all as I think they stay true to their style and their fans will love it and they will get new fans from this version of Home I'm sure.

Singapore, We Are Ok! by OWL International
They are back at it again. Their CNY Song earlier this year already crossed a million views and for Nation Day, they seem like doing a series of videos too.
NDP 2014: the mrbrown show: jiak simi
Mr Brown did one last year (which to me was pretty darn good) and this year he did a tasty one too. I think him and his team of musicians were kinda hungry when they did the lyrics. I lol when Bak Chor Mee came out. lol. See all his NDP songs here.
National Day Parade 2014 MV – What Do You See
I loved the original version by Electrico and Mr Brown's LeKuaSimi was hilarious, but I think this 2014 version added racial diversity, trendy hipster-ness, drone videography, hawker food, education, old people, young people, happy faces and the amazing logo which I think you will agree with me that is somewhat what we all expect. So in a way, it met my expectations.
National Day Parade 2014 MV – We Will Get There & One People, One Nation, One Singapore
This is the official one for 2014. I think its a nice rearrangement. Not too complicated. Not trying too hard.
Spot anymore? Pls share share.
Update: 9 Aug 2014
LORONG BOYS | A Gift to Singapore 2014
Beautiful instrumental by The Lorong Boys who are 5 award-winning Singaporean musicians who are equally comfortable playing on the hallowed stage of the concert hall as they are on the streets of the heartland.
My Singapore 2014 Moments of Love by Lorraine Tan
This is high production quality and backed by lots of sponsors.
Update: 10 Aug 2014
National Day Medley – HubbaBubbas
Really nice upbeat medley with some beatboxing and great vocals.
Unofficial NDP theme song 2014 – There's no place like home
Audris Ho does a nice original number for Singapore 2014.