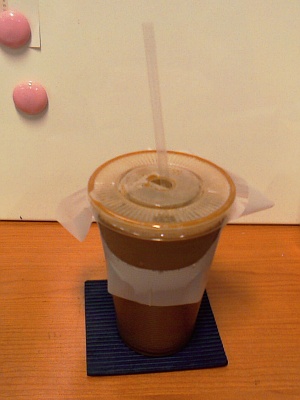 There is this coffee stall that i get my morning drink almost every other day. I've tried to buy my drink from quite a number of stalls around my office, but this stall at Hong Lim Complex have to be the best.
The lady that prepares the drink is a real character. You have the guy who prepares the drink inside, and the lady takes the order. In order not to let the guy forget the order, she keeps repeating the order over and over again. She tries to make the order repeating process a little more interesting, hence adds a few words here and there to construct differnet sentences, but its still just repeating the order.
The reason i always buy from this lady is because of the level of understanding she have for her take-away-peng drinks. These are the things she do, that others usually don't.
Uses big chunks of ice rather than small pieces. This means less total surface area for the ice = the ice melts slower = the drink lasts longer.
After putting on the plastic cover, she holds the cup up upside down to make sure the ice floats up to the bottom of the cup to ensure the drinks is evenly cold.
She pokes in the straw, so you don't have to. If you have tried poking in straws, you will know sometimes it splashes all over your hand and worse still your white office shirt in the morning.
She than puts on the plastic handle and uses 2 hands to pass you the drink, so that you can use one hand to hold the middle part of the plastic handle.
To think she came up with such processes. Way cool man.
The next time you get a teh-peng take away, see how its done and you will see how these small differences make big deal.