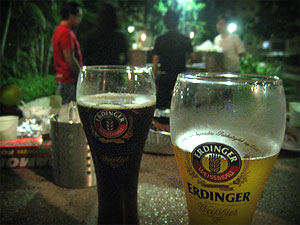 BBQs become different when you have good friends, good food, good beer, and good friends. This will be a BBQ to remember.
It was my birthday a few days ago and i took the day off from work, but somehow, that day was just filled with errands. At the end of that day, i really felt i'm getting old and that birthdays are a thing of the past. No biggie, no worries. The only thing that bugged me was the night before i met my wife outside to have a peaceful dinner without the kids, but who knows she was busy SMSing the whole night. I basically had dinner myself, had ice cream myself and went out with myself. Oh and the dinner was suppose to be my wife's way of celebrating my birthday.
Then on Saturday evening, i had a surprise BBQ arranged by wife and a few close friends. I had no idea.
The evening was perfect. My parents, grandma & siblings came, my cousins came, my close friends came as well. All the people that mattered to me in my life was there. It was nice, really nice. After the BBQ, we went upstairs and even managed to see a DVD with my cousins.
Best evening of 2007 i have to say. All thanks to my wife. *smuck* :)