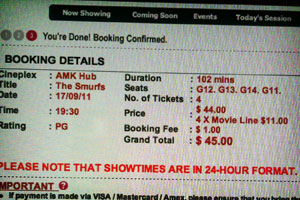 I'm simply disappointed in myself. I lost things two days in a row.
First, on saturday, I brought the kids to see Smurfs and after the 7:30pm movie, we went to do groceries. Only when we got home at 11pm, I found out that my wallet is missing. The last I remembered of my wallet was that I put the movie tickets in them when I was in the cinema.
So after a long tiring day, Pearl and I went back to the cinema in the hope that its there…
The guy tearing ticket stubs for the midnight crowd was busy, but he got his colleague to help. They took out a lost and found file and… :) they had my Montblanc present from wife wrapped in a nice zip lock bag. Thank God… It had a few hundred dollars in it, all my cards, IC and all and not to mention the wallet itself. We got home way past midnight…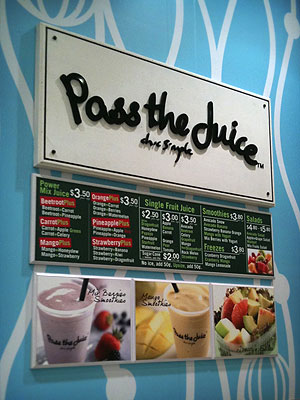 The very next day, we had to run some errands at Takashimaya. After getting what we needed to get, I went back to the car to get the cash card to redeem some parking thing. I put the cash card in my pocket and while walking back to the customer service counter, I stopped by Pass The Juice to get a Banana Orange Juice. When I got to the customer service counter, the cash card was not in my pocket!
I was super disappointed with myself. How can this happen again! My wife did not know what to say…
I tracked back where I came from and was sure that the cash card fell out of my pocket when I pulled my wallet out… *sigh* My wife told me that her September transport claims for ERP / parking were not done yet… this meant a few hundred dollars just went up in smokes.
All we could really do was to report lost.
AMAZINGLY, they said someone just reported finding a cash card and they pulled out a form to ask us a few questions. At the back of my mind, its like how can this person find and report this so quickly? It could not be…
But it was. The cash card came back. A lady from Customer Service from another level brought the cash card up and we were sure it was the one.
They got the particulars of the person who went out of her way to make this report. I gave this honest person a call to thank her. And commended her for her honestly and just being so nice.
Thanks Farah. Thank you so much.
What a klutzy weekend. I feel like i'm slowly turning into a Homer.