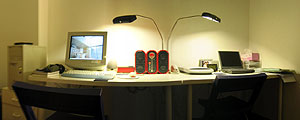 thepans welcome the new addition to our family, the Philips EM MZ1100. It found its place right smack in the middle of out electronic life, between Pearl's laptop and my PC.
Last year i've been eyeing it and have been intentionally walking into electronic stores just to see the hi-fi, but at $499 it was hard for me to reach for my wallet.
But all thanks to Greg of theQshop (my cousin) who offered to buy it for my house warming gift. But i could not accept such an expensive gift, so i told him sponsor $150 can already. Today i saw a display set going for only $399 inclusive of GST and the condition was brand new, so i got it!
$399 – $150 (sponsor) = $249
So paying $249 for a $499 item. Excellent!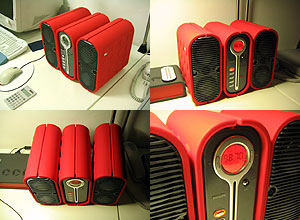 One of the reason we got this is also because it was designed in Singapore. yeah! support local design and local designers!