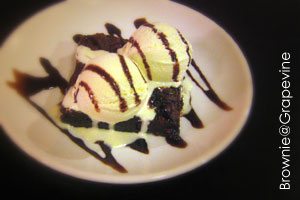 The brownie at Grapevine is killer! When served, the brownie is hot and soft and melts in your mouth while the ice cream is cold and the juxtaposition is a killer combination.
But the problem of such a combination is that the ice cream would have mealted and bcome soggy when you are half way thru the brownie. So we have came out with a solution. If there are 4 persons having the brownie, we will then order 1 in every 10mins! So we will always have it the way its suppose to be!
Now for the first one. ATTACK!!!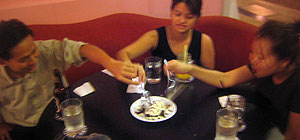 We (Jon, Anne, Pearl and myslef) only had 2 tonight, but i think we will be visiting Grapevine quite often. If you do see us there, do say hi.
Grapevine
780 Up Serangoon Rd #01-07
Singapore 534649
T: 62805026