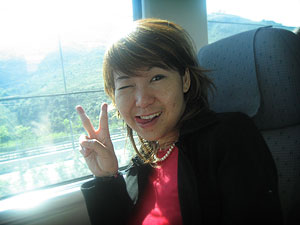 We finally came to Hong Kong. Pearl and I always talked about coming to Hong Kong to shop, eat, explore, watch Hong Kong people live their lives, etc. and we finally did. All thanks to my friends Leo and Fiona who was getting married. So in a way, we flew in for the wedding and stayed back alot more days to explore Hong Kong.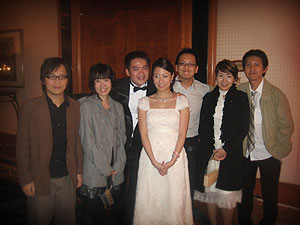 Pearl knew Leo long time ago in her early secondary school days and if you knew Leo, he is an extremely nice and humble guy. So thru Leo i got to know Pearl, and the rest is history. So in a way Leo is like our matchmaker of sorts. lol…
The wedding was beautiful. There was a live jazz band, the food was good and the Cantonese speeches were hilarious even though we only knew very little Cantonese. The interesting thing is that they have no "Yum Seng", so the table i'm on was the only Singaporean table, so we did not consider much when the wedding couple came to our table. YUMMMM SEEEENG! My cousins Greg and Dom was there too to add to the rowdiness.
May Leo and Fiona's love for one another be like fresh dew in the morning always.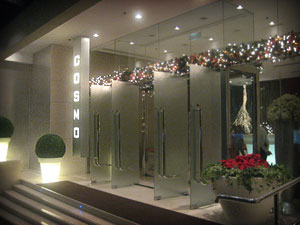 We stayed at Cosmo Hotel for four nights and it was nice. Its quite near Causeway Bay, hence Causeway Bay was our first stop of the 5 day 4 night shop-stravagansa.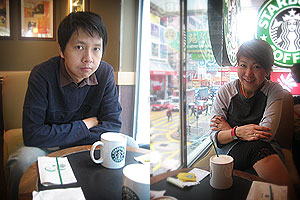 We had Starbucks one of the morning and watched busy Hong Kong people rushing to work… urm maybe not, cuz we woke up like 10am almost everyday. lol… so more like just seeing busy Hong Kong people.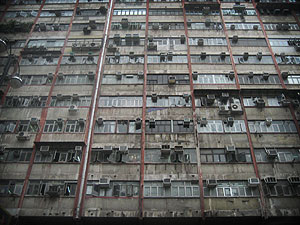 For those who are familiar with GOD, you will be familiar with the very cluttered high-rise apartments all over the city which became one of the patterns used in some of their products. Its amazing how something this messy can be interpreted to become a kind of design… design crafted by society.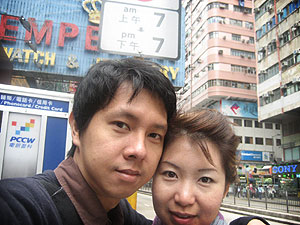 Somehow my brother David and his wife decided to come to Hong Kong too, hence we met up and went for a good Dim Sum lunch at Tsim Sha Tsui's Hung Seng Restaurant. Super ex, but quite nice.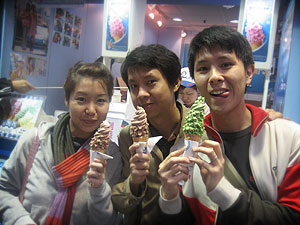 We then went up to check out the famous Ladies Market. Its like a mega pasar malam… all the same repeated lame stuff… but somehow, we sill managed to buy some stuff.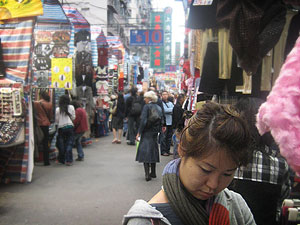 Seeing my wife shop and enjoying herself really makes me happy. This trip i've mentally prepared myself its going to be a shopping trip, so i brought along a magazine to keep myself occupied while i wait to carry more acquired merchandise.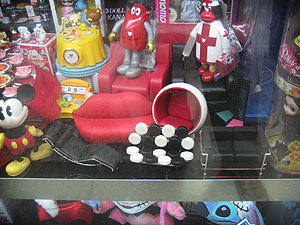 Pearl had to go to the loo, hence we went into to this small and tall building. The toilet was on the 6 and 7 floor, hence while i waited for her i found out that there are loads of cool toys in this building. We then spent the rest of the day in that 1 building. Pearl had girl stuff to see, i had toys to see. great!
I saw some designer furniture miniatures and i knew i had to get them for my architect friends back home. Bought a Le Corbusier sofa each for Adrian and Desmond. Adrian have a sofa in his place that is quite similar to this sofa. hence i think the miniature will be cool for him. I tried to get the Ball Chair for Desmond but they were all out of stock.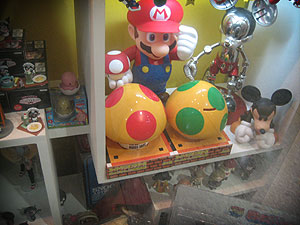 There were loads of cool toys there and the thing that caught my eye was the range of Mario toys that were there.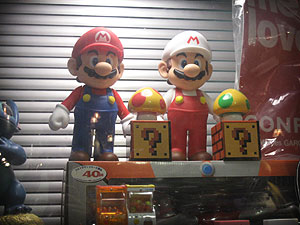 There were figurines, mushroom style piggy banks, but my fave would have to be the solar powered mushroom that wobbles which is irritatingly out of stock.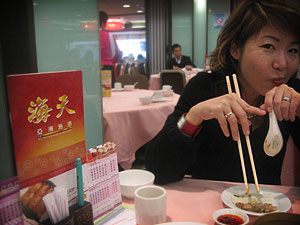 7 years ago when we were in Hong Kong with my dad, he brought us to this simple Dim Sum place and its amazing that Pearl still remembers where it is. We went there and the food was fabulous. Its the Hou Tin Restaurant at Wan Chai.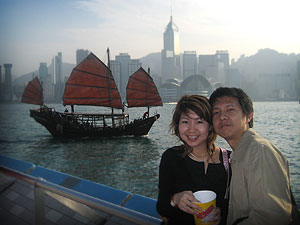 We wanted to see the Hong Kong skyline, hence we went to the avenue of stars to take touristy pictures. And what are the chances… a real old retro junk boat and my perfectly timed digital camera. Priceless…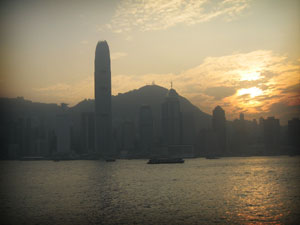 We then went into Harbour City which is a super mega mall which we literally got lost in. And when we finally got out, we manage to catch the sun setting with the IFC building sticking out like a… building.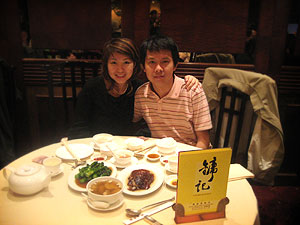 Its time for dinner and off we go to Yung Kee Roast Goose restaurant which was much recommended to Pearl by her relatives and friends. The food was good, but its also quite steep.
The waitress saw that i was trying to take a picture and quickly she offered to help us take a picture. She stretched out one hand to get the camera from me and with her other hand she quickly turned the menu around to let the restaurant name face the camera. Brilliant. We ordered abit too much and hence stuffed ourselves quite badly. At the end we had to pack the ribs back to the hotel to eat.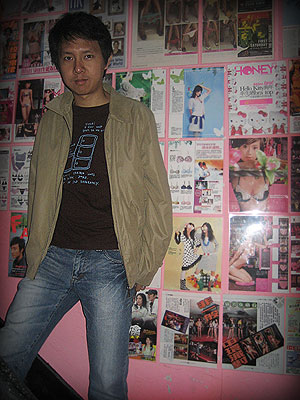 During this trip, i manage to do a bit of shopping and mainly bought clothes for work. Other than that, i did alot of thinking while being a part-time security guard protecting the many shopping establishment my wife plans to swipe her plastics in. I looked at the busy Hong Kong people. Some were very fashionable and some you know by the looks of their face, they are just trying to make ends meet.
So wats for 2007? Where will my career head? What will i achieve at 35? How many kids will i have? How is the relationship i have with the people i know? How is my dad and mom? How can i spend more time with my siblings? How can i spend more time with my kids? What will my kids do next time? Will i be going to Nepal this year? What will become of the net? How can i tell the people i love that i love them? When will i fulfill my destiny in Christ?