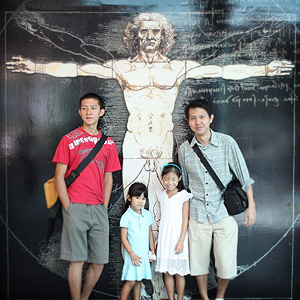 Science. The field of study that allows us to understand the world around us more. I brought the kids to the Science Centre last year and they had fun, but this year there is a special Leonardo Da Vinci exhibit on, hence we went down to check it out.
My brother David suggested to go and since i already wanted to go, we all went together. My bro Louis was on this post basic military training break, so he came along too. My aunt had time too, hence she joined us too.
At the sight of the naked man (Vitruvian Man) they giggled and stared. lol… It was quite a funny sight. But hmm… how am i gonna cover that up when its displayed for public viewing. bah… just go with it. Pose… Smile… Photo. lol…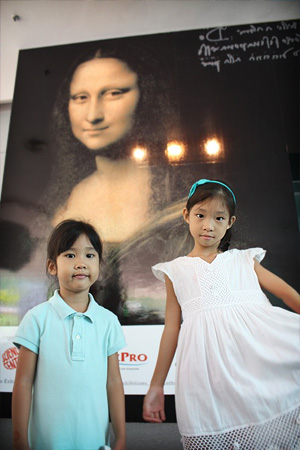 The Mona Lisa (although not the real one) was also on display and there were so many things about it that i did not know till today.
We could not take pictures inside, hence photos outside would have to do.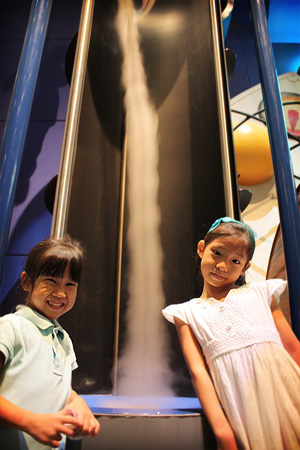 Science exhibits are always interesting, but i'm not sure if they are interesting to 4 and 6 year old girls or not. They kept wanting to move on to see other things. But for any exhibit that is interactive, they will stop and play with them. I tried explaining certain things to them, but its kinda hard.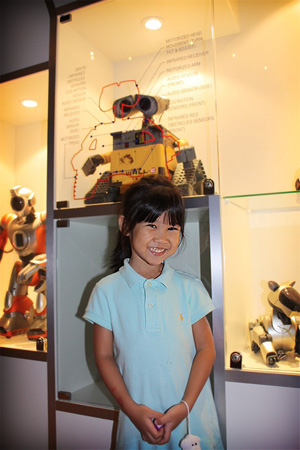 For the record Cleo likes Wall-E, so we stopped for a photo, you can see how much she likes it by her smile.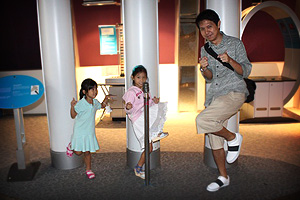 There was also a mike that was on a stange like platform. It was suppose to be some audio exhibit, but we stopped and did a bit of nobody nobody. lol…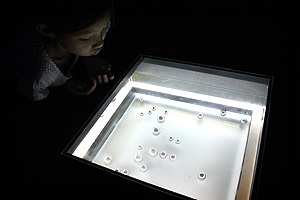 I hope the kids have interest in science early if possible. Its such an interesting and important thing.