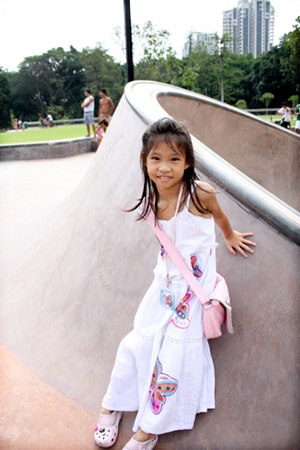 A real concrete skate park is finally added to Singapore's landscape. Its just by the beach at east coast, opposite Bayshore condo area.
I remember back in 97 when everyone was skating, the desire for such a skate park was so deep that paper petitions were signed by kids not knowing what to do, who to talk to when all we had was the love of skating. We skated in the CBD, waxing curbs and everyone was into long low stylish royales. We even made a grind box at home, explored all grindable places in our area, but we did most of our skating at the playground near Blk 14 at Marine Terrace. Now, 12 years later, here I stand on a real skate park.
Amazingly i still met some of my old skate friends today when i visited the ECP Skate Park for the first time today. Aaron, Derrick & Louis were there, they were there skating like they were when i last saw them. They are no longer kids like we all were back in the days. Now its not longer a fad, its clear that skating was not merely a hobby for them, its clear that skating has always been part of them.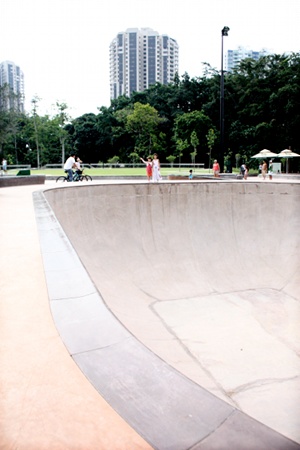 I was there with my Pearl, Clié and Cleo as we had a few hours to spare in that area. Did not plan to skate, hence no skates, but its good that i had the camera with me, so manage to take a number of pictures.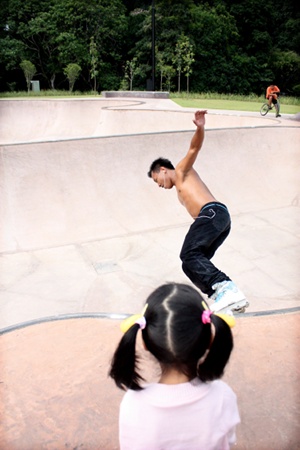 The bowl is so so deep. There is even a rope ladder nearby just in case people get stuck in there. The kids were quite afraid about the bowl as it is super deep for them.
Just looking at the park, the curbs, the rails, the ramps, the lush green grass, the shaded rest areas, the calm beach just beside, its beautiful, its wonderful, i've got to come skate asap.
No more talk… time to skate. time to roll! Now who wants to come along?