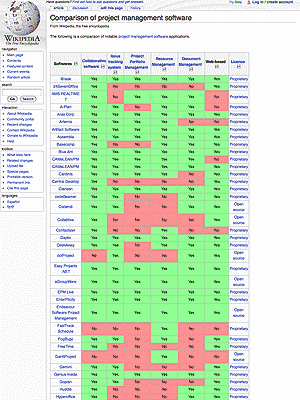 My job revolves around web design and development projects. And in my role its my job to manage resources and ensure the timely delivery of all projects for our clients according to the brief and within the allocated budget.
I have to say it is challenging to be able to know the status of every single project at any one time and to be able to plan resources elegantly so that everyone can have a life other then work + keep weekends drastically different from weekdays. I have to admit I depend alot on putting things down on paper or digitally on the web cuz i've got a terrible memory.
So of late, i've been dabbling with more tools out there and methodologically going thru the Comparison of project management software list on wikipedia.
I've used MS Project, a mix of solutions from MS Office, 37 Signal's Basecamp, Google Docs, Wikis, etc… But i've yet to find one that is perfect for what i'm looking for which is a good marriage of project management and resource management.
If you've got experience to share and killer apps to recommend, do share and comment on this post. Thanks.